T.H.E. Show at Newport Beach: Julie Mullins on Electronics $20k and Up
Five Best-Sounding Rooms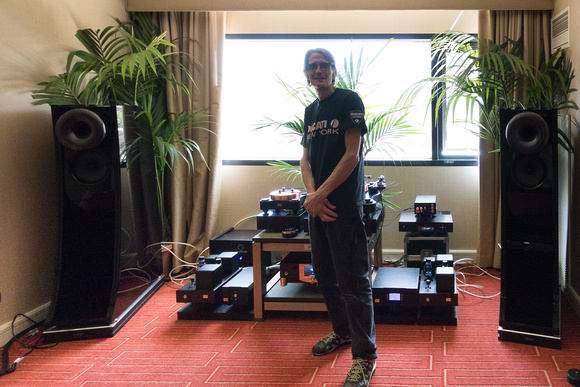 Cessaro Wagner speakers with TW Acustic and MBL Noble electronics
When things go awry at shows, it's good to have friends. After experiencing some preamplifier misbehavior, Jeffrey Catalano of High Water Sound was able to borrow an MBL Noble 7008 A integrated amplifier ($16.5k) that he ran as a preamp (after defeating the gain section), which along with a pair of TW-Acustic 300 B monoblocks ($18k/pr.) and RPS 100 phonostage drove Cessaro Speaker Systems' Wagner horn-loaded loudspeakers ($65k). The analog source was a TW- Acustic Black Knight turntable with two TW 10.5 tonearms ($5.5k each) with Miyajima cartridges, a Madake stereo cart ($6k) and a Zero mono one ($2k). It's hard to say whether the MBL swap-in might have been a blessing in disguise, but the sonic results were spectacular.
The sound here was far fuller and more expansive, open, spacious, and three-dimensional than what I've typically heard from horns. There was plenty of drive and energy balanced by smooth seamlessness and a sense of overall dynamic range, ease, and effortlessness. Who knew that horns could be so utterly engaging and non-fatiguing? Everything sounded so freed up, so alive.
High Water Sound's slogan is "2 channel with attitude" so it seemed fitting to break out my El Vy LP Return to the Moon. The title cut and the cheeky, tongue-in-cheek (and slightly salacious) "I'm the Man To Be" both feature very deep bass, which this system reproduced very well with clear melodic content and definition. The system convincingly (and faithfully) reproduced Tina Weymouth's fat, funky bass and David Byrne's off-the-wall warbling on "Take Me to the River" and "Life During Wartime" from Talking Heads' Stop Making Sense. Percussion snapped with rapid-fire transient attacks and there was plenty of punch on guitar licks. Overall, vocals and instruments (particularly percussion) were rendered with amazing presence—as if Matt Berninger and David Byrne were in the room—combined with crystalline detail and musicality. The astounding presence and immediacy made for a very exciting and lively listening experience.
Accuphase electronics driving Gauder Akustic Berlina RC-7 Mk. 2 speakers
I'd heard Accuphase electronics driving this speaker model at this year's CES, but it sure didn't sound like this! It got even better between my brief visit on Friday and a stop-by on Sunday (which is often the case as systems settle in). An Accuphase A-70 Class A 60Wpc stereo amp ($27k) with a power MOSFET output stage with 10-parallel push-pull configuration, a C-2820 preamp linestage ($31.5k), and an Air Tight ATE-2005 phono preamp ($9k) drove Gauder Akustic Berlina RC-7 Mk. 2 speakers ($60k) featuring a diamond tweeter, slate cabinet facing, and custom ceramic drivers (made by Thiel) to great effect.
This setup from Axiss Audio and The Lotus Group landed squarely in that sweet spot between big, full, powerful slam and gusto combined with highly resolved, spacious and open musicality and general neutrality. A listen to "All My Trials" on JV's Peter, Paul & Mary LP (a stellar reissue from ORG) delivered lush, lovely harmonies that were richly detailed and natural-sounding. Upon first listen, I wondered whether a sub would have been a worthwhile addition but I changed my mind when I heard the superb definition of Tina Weymouth's bass on Talking Heads' "Take Me to the River" from the live soundtrack album Stop Making Sense. Percussion was rendered with quick transient attacks and the bass was so solid you could almost sit on it. The speakers showed no signs of compression even at the party-level SPLs with 102dB peaks. Immersive, visceral listening. A Hanss T-60SE Special Edition turntable ($10.5k) with a Durand Kairos tonearm ($6450) and Air Tight PC-1S ($8.5k) cartridge served as the analog front end. This most delightful demo also featured Hanss equipment racks, cables from PranaWire and Wireworld, and power conditioners from Acoustic Revive.
Constellation electronics and Von Schweikert VR-55 Activ speakers
When I first heard this system on Friday, I liked what I heard but wasn't blown away—even by (digital) tracks I know and love. I figured maybe things needed time to settle in (and digital was on tap at that time). Happily I was in the "neighborhood" and returned for a brief visit on Sunday when reel-to-reel tapes were played on a classic Technics 1520 deck rebuilt by J-Corder. It was as if the system had moved into another gear. The upright bass, guitar, accordion, and violin on Renaud García-Fons' "La Línea Del Sur" and the piano on a track from Yoram Ish-Hurwitz were presented with incredible imaging and presence that was thrilling in its degree of detail and verisimilitude, rendering this a highly engaging and exciting demo. The setup also included the Virgo III preamplifier ($32k; here with a DC filter for $6k) and the Centaur II stereo amplifier ($40k)—both from Constellation—driving Von Schweikert VR-55 Activ loudspeakers ($60k). Racks were from Critical Mass Systems (approx. $23k), cabling was from MasterBuilt, and the power conditioner was the Audioquest Niagara 7000 ($8k).
Raidho D-4.1 loudspeakers driven by Aavik Acoustics Unity U-300 integrated
The Raidho room had two surprises at this show: one, a turntable source! A Thales 'table and tonearm. It's the first time I'd seen these guys demo with an analog rig. Two, the updated Raidho D-4.1 loudspeakers ($110k) sounded exponentially better than I'd heard them at recent showings. They were powered here by the wonderful Aavik Acoustics Unity U-300 integrated amplifier ($30k). Though rich and darkish in timbre, the bottom-up sound gave way to great drive, speed, and pacing that provided pure musical enjoyment. Even at loud volumes, the amp and speakers didn't flinch and maintained a sense of big, bold effortlessness. This system didn't want for resolution and dimensionality, but also delivered some pretty impressive bass on the first couple of cuts on my El Vy Return to the Moon LP that features subterranean octaves. Admittedly it went a bit boomy at moments, but for the most part the low end was quite clean and defined; the system seemed to handle the depths of deep bass better than most I heard at the show. Big sound, funky fun.
Natural Sound 1 speakers with Audio Tekne electronics
This system so surprised and delighted me that I felt compelled to include it here. Made in Slovenia, the Natural Sound 1 loudspeaker ($45k/pr.) is a two-way with a horn-loaded tweeter and a compression driver made in Japan by Maxsonic. Audio Tekne electronics, something of a cult brand in Japan, drove the speakers. (Incidentally I'd also heard the manufacturer's electronics sounding good at the ancillary Hifi Deluxe Show in Munich.) There was the flagship TFA-9591PCS preamp ($69k), which has no potentiometer so the backgrounds were exceptionally quiet, and a TM-9801 stereo amp ($49k) that features 6AS7G tubes and delivers 8Wpc in a push-pull configuration to offer powerful dynamics, especially bass control and a well-defined and very open top end. The phonostage was the TEA-2000 ($20k) mated with a Verdere turntable with a MySonicLab cartridge. A listen to "If You Were the Only Girl" from the excellent Dream with Dean Analogue Productions LP filled the room with three-dimensional sound that was full and round with fine delicacy of detail. The presentation was silky-smooth and effortless with great imaging on Dean's close-miked, breathy baritone vibrato. This highly resolved and natural-sounding system also pulled off a "disappearing act" pretty convincingly.
Auspicious Debuts
Among the most surprising debuts I came across at the show were new electronics and a horn loudspeaker from Stein Music, perhaps best known up to now for its somewhat unconventional room treatment accessories that use crystals and other rare minerals to influence soundwave behavior. Holger Stein, whose operations are based outside of Düsseldorf, Germany, has spent years developing these latest offerings. The Highline 2 balanced integrated amplifier is a Class AB four-channel design that delivers 120Wpc. Its exact price is TBD, but will probably be approximately $10k (which is outside my reporting category). Stein's new horn-loaded V6 loudspeaker (approximately $80k) has three 12-inch woofers on each side, with each speaker powered by its own 450-watt amplifier and DSP'd for low-end control. Sonics were smooth, slick, and seamless—much like the horns themselves. Sources were digital only, but The Weavers' "Guantanamera" sounded lovely in its transparency, delicacy, and openness. On Ella and Louis, Satchmo's every intake of breath and subtle lip smack could be heard with eerie realism. The speakers' dynamically charged presence proved powerful on Pink Floyd's "Another Brick in the Wall, Part 3"—the impact of the smashes made me jump!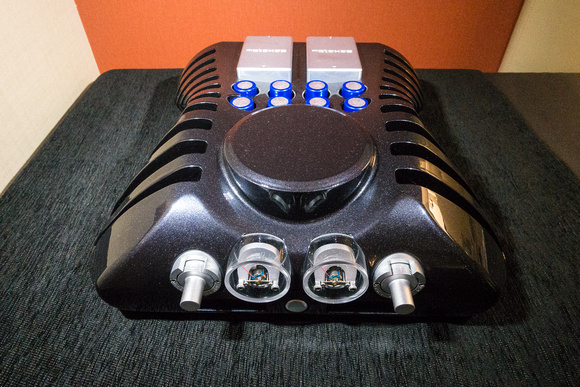 The AAudio Imports room presented the U.S. debut of the ultra-modern-looking, German-made Metaxas Ikarus integrated 50Wpc power amp ($32.5k); it was slated to be driving Lansche No. 3.1 loudspeakers with the maker's iconic plasma ion tweeters, but alas, shipping snags led to a substitution of Acoustic Zen Crescendo speakers with horn-loaded tweeters ($22k) in the setup.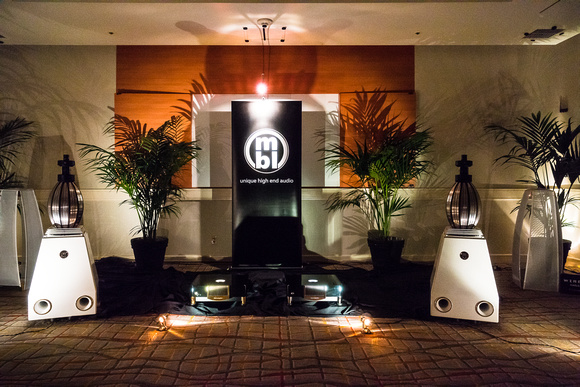 Another U.S. debut was the MBL Noble N21 monoblock ($16.5k each; $33k/pr.), a pair of which were demo'd with the MBL Reference 6010D preamp (as the Noble line preamp is not in market yet) powering the MBL 101E Radialstrahler three-ways. I always enjoy and even look forward to MBL room demos, partly because they most often feature the killer-good United Home Audio 12-OPS tape deck ($23k) source, but also because I find MBL's German-engineered omnidirectional marvels a sonic thrill ride. But though AXPONA was a more reference-level setup (and a tough act to follow), this system didn't quite hit the high marks I've grown used to. It was still very enjoyable of course, but usually it's a knockout.
For more than a year now, the Mark Levinson marque (part of the Harman group) has been on a roll debut-wise; it's been a challenge to keep up with all those premieres! This show brought the debut of the No. 526 preamplifier ($20k) featuring digital and analog inputs, mc and mm phono capabilities, and a DAC. It's slated to be shipping within a couple of weeks (as of this writing). There's also a new No. 523 preamp, which is the same as the 526 minus the DAC and digital ins, for $15k. In a digital-only demo setup the No. 526 was mated with No. 536 monoblocks ($30k/pr.)—Class AB and rated at 400W into 8 ohms—driving JBL K2 speakers ($55k). The source was the brand-new No. 519 ($20k) that includes a digital preamp, CD player, streamer, and ML's patented real-time upsampling and Clarify technologies. Though soundstaging could have been deeper, the presentation was remarkably expansive with good speed and solidity (especially as digital goes). A listen to The Fairfield Four's "These Bones" revealed smooth, warm vocals and more than decent bass definition.
The brand-new MSB M204 mono amplifier ($38,950/pr.) was also introduced. Made in Santa Cruz, the 200W Class A amp has zero negative feedback—a rarity above 50W. Its unique vertical cylindrical design features two large toroidal transformers per side with only two gain stages, and ultra-short signal and power paths—none longer than one inch. A pair powered YG Acoustics Sonja 1.2 speakers ($74.8k) with an MSB Select 2 DAC and universal media transport ($119,990). Sure, I longed for analog, but this system really did elevate Red Book CDs with an impression of openness and dimensionality. Sonny Rollins' smooth sax had good body and pretty detailed neutrality, but I still wanted some more bloom and richness. Apparently MQA compatibility will be forthcoming, which sounds like a promising development.
Aries Cerat debuted two new components in its Diana line, the (outside my assigned bailiwick) Diana Mezzo preamplifier ($12k) and the Diana Forte stereo amplifier ($27.5k), which drove Vandersteen 5A Carbon loudspeakers. With claims of being the most powerful Class A SET stereo amp extant, the 60Wpc Diana Forte weighs a hefty 240 pounds, has six power supplies, and features AC-linked technology to modulate each circuit—so it's like having a single circuit across multiple chassis, only the circuitry is contained in a single chassis.
Other Contenders/Great-Sounding Gear
I'll start with a goosebump-inducing demo that was among the show's most engaging and lively. In one of the Alma Audio rooms, Avantgarde Uno XD horn-loaded speakers paired wonderfully with an Audiopax L50 solid-state preamp ($18,800), a Dan D'Agostino Momentum phonostage ($28k), and Audiopax M50 Class A1 50W monoblocks ($29.8k/pr.). I was told that the Avantgarde designer had Audiopax electronics at home, so those made for a great match—and for easier setup of the woofers for DSP configuration. On a 7-inch single of Patti Smith's "Because the Night" the Avantgarde system rendered the raw emotion of her vocals with amazing realism. Hyper-quick transient attacks resulted in tight, solid bass and crisp, highly detailed percussion. I sensed some frontal projection à la horns but the presentation was so energetic, fast, and alive that I didn't mind too much. Oh, and the room also has some interesting decorative acoustic panels from Decorac.
Once again the Vivid Giya G2 loudspeakers ($25k each) sounded wonderfully dynamic, detailed, and quite natural overall. This time, the demo system from On a Higher Note, Pelican Hill, recording engineer Joseph Cali, and Shunyata Research featured Luxman electronics: a C-700u preamp ($10k), B-1000f monoblocks ($30k each), and an EQ-500 vacuum tube phonostage ($7.5k). In addition to providing cables, interconnects, and power cords, Shunyata Research also supplied its new Denali line conditioner. I must admit that the analog sources, especially the Muddy Waters on ½-inch reel-to-reel on a classic OTARI deck, proved more far impressive than the digital playback, where things seemed to verge on a slight beaminess/brightness at times. But the analog in here really wowed me.
The flagship four-way Wilson Alexx speakers ($111,200) were demo'd with reference VTL electronics—TL-7.5 Series III linestage preamp ($25k) and Siegfried Series II monoblock amplifiers ($65k/pr.)—to rather ear-pleasing effect, most notably in the power range. Overall, the sound was pretty, and pretty musical with nice qualities on strings and woodwinds. Projection seemed a bit more spacious with less forwardness. IMHO, this was the best-sounding demo of those transducers I've heard to date.
Speaking of Wilson, Wilson Audio Sasha 2 speakers ($33.9k, regular finish) were seen and heard in a couple of other demos: driven in one room by ARC SE 250 tube amps ($34k/pr.) in a system that featured quite good imaging on piano, guitar, and vocals (even if not the last word in realism), and by D'Agostino Progression monoblocks in another setup that rendered plenty of slam and fairly fast transient response on El Vy's Return to the Moon. Sure, the bass could have been deeper and a bit better controlled, but the overall musical energy was fun.
Continuing the themes of slam and fun, Audionet MAX monoblocks ($30.5/pr.) drove YG Acoustics Sonja 1.2 speakers ($72.8k) in a bi-amped setup that nearly made my top five picks. The beautiful harmonies on Peter, Paul & Mary's "All My Trials" on vinyl brimmed with richness and emotion. Timbre was on the darkish side, lending a sense of weight and gravity plus palpable bass presence.
Once again Tidal Audio's German-made goods proved to be a beautiful-sounding presence at the show in a couple of notable digital-only setups: for one, Piano G2 loudspeakers paired with a Reimyo CAT-777 MK2 preamplifier ($20k) and a solid-state, single MOSFET Reimyo KAP-777 stereo power amp rated at 200W into 8 ohms ($25k). Oscar Peterson's We Get Requests on Red Book sounded far lovelier than I knew a CD could. And for the other, Contriva G2 speakers ($59,990) powered by the Tidal Preos-D preamp ($31,190) and the Tidal Impulse dual mono amplifier ($32,290). This was gorgeous sound; I only wish I could have stuck around longer.
In a large lobby-level room with multiple setups, a standout system was Ayon Orthos XS Gen 4 350W Class A monoblock amplifiers ($28.9k/pr.) driving LumenWhite White Light 25th Anniversary three-way speakers ($69k) making their North American debut with an Ayon CD-3sx CD player/DAC/streamer/DSD combo source that really elevated the medium on a Wynton Marsalis CD with clean, neutral, and transparent sound. Although the huge room size seemed to present some bass issues, transient responses were quite impressive and there was nice detail on percussion.
Ensconced in another big ballroom was Synergistic Research with a setup featuring the likes of Magico S7 speakers, Soulution 711 monoblocks, and of course, Synergistic Research gear. Ted Denney was demonstrating his latest sophisticated UEF Tech room-correction technologies in addition to introducing a new Synergistic Research power cell. When I visited, some dark, sexy blues from John Campbell was on digital playback, followed by Roger Waters, and various intriguing tracks that included a quite realistic-sounding cello version of "Amazing Grace," then another with marimba, pan flute, chimes…and even some crickets chirping. A Hans Zimmer cut didn't sound quite as clear and balanced, particularly in the bass, but overall the system sounded quite different than any Magico/Soulution pairings I'd heard before. I'd wanted to return to listen to some reel-to-reel tapes but alas, time ran out.
PBN Audio showed its 450W Class AB EB-SA1 Olympia stereo/monoblock amplifier ($30k), a smaller but even more powerful integrated dual-monoblock version of which will likely be introduced at RMAF. The amp, which is made in California, allows you to shift from mono to stereo use with the flip of a switch. A brief listen to a demo in which the company's electronics drove PBN Liberty speakers ($15k) yielded relatively bottom-up sound with respectable bass solidity and potent energy with fairly forward guitar and vocals and a blend of brighter and darker timbres.
Julie Mullins' Best of Show
Best Sound (Cost No Object)
This has to be a toss-up between the Cessaro Wagner speakers with TW-Acustic 300 B monoblocks and Black Knight 'table and MBL Noble integrated, and the Gauder Akustic Berlina RC-7 Mk. 2 speakers driven by an Accuphase A-70 stereo amp, C-2820 preamp linestage ($31.5k), and Air Tight ATE-2005 phono preamp ($9k).
Best Sound (For the Money)
Questyle R200I amp/DAC/receiver (est. $1500-$1700) for its extraordinary sound on wireless playback through Focal Sopra speakers ($20k)—Leonard Cohen's "A Thousand Kisses Deep" stopped me in my tracks—and the trio of Magnepan MMG planar loudspeakers in an interesting experiential/"non-sales" three-channel demo.
Most Significant Introduction
The aforementioned Stein Music horns and electronics, and Questyle's brand-new impressive R200I paired wirelessly with Focal Sopra speakers ($20k) that made their U.S. debut.
Most Significant Trends
Horn loudspeakers galore! There were plenty of reel-to-reel tape decks around as sources, too. Oh, and a copy of When the Levee Breaks by Vanessa Fernandez in almost every room.
Tags: FEATURED