The 2015 Munich High-End Show
If there was ever any doubt about the Munich high-end show's ascendance to the world's premier audio event, the 2015 show will put any reservations to rest. This year the vibe was even more upbeat than in previous years; attendance seemed greater; and the show took on an even more international feel. The statistics released just after the show confirmed what everyone felt—that this was by far the biggest and best Munich show yet.
Consider that compared to just two years ago, the number of exhibitors increased from 363 to 506; trade visitors grew from 5211 to 6588; consumer attendees jumped from 10,948 to 14,079, and the exhibition space increased from 20,000 square meters to 27,610 square meters. Total attendance (trade, consumes, press) surpassed 21,000. Now that's a hi-fi show.
My beat was nominally analog and digital sources, but I'll also include a number of significant product introductions from other categories that my colleagues weren't covering.
Five Most Significant Product Introductions
1. Technics Returns to the High End
The storied Technics brand has made an ambitious return to high-end audio with the launch of three products in the flagship Reference Class and four components in the Premium Class. After Technics spent decades out of the high-end arena, these new products are a bold statement of the company's commitment to high-performance audio.
The three components in the R1 Reference Class series are the SE-R1 stereo amplifier, whose styling and large front-panel power meters put a modern twist on the company's iconic design language of the 1970s. The 150Wpc SE-R1 is massively built, with dual-mono construction and a "chassis-within-a-chassis" design. Most interestingly, however, the SE-R1 accepts digital signals from the SU-R1 Network Player and converts the digital data to the pulse-width modulation (PWM) signal that drives the amplifier's switching output stage. The "Technics Digital Link" that connects the two also carries volume-control information, eliminating a traditional signal attenuator. The SE-R1 is packed with other innovations, including a battery-powered clock. The third component in the Reference Class is the SB-R1 loudspeaker employing five drivers, one of which is a flat coaxial design. All the drivers were designed and built in-house by Technics. US pricing has yet to be determined. This description only scratches the surface; we'll have a full review in an upcoming issue.
2. Roon Music Management Software
When the Sooloos music server was introduced in the late 1990s its user interface was so advanced that it has remained to this day a model of ease of use. In the intervening years, nearly every music-server manufacturer has written its own music-management software, with greatly varying success (to put it charitably). After being part of Meridian since 2008, Sooloos' founders have branched off and created a new music-management software called Roon. After trying Roon out in the PS Audio room, I can say that it's light years beyond any current app. It's not just the clean and intuitive user interface that's so compelling, but the additional content about the music that makes Roon unique. Roon finds information about the music in your library (or streamed from Tidal) including bios, photos, credits, and reviews. All this metadata is dynamic and continually updated, and presented in a graphic-rich way on your tablet or display. Roon Labs CEO Enno Vandermeer described Roon:
"Roon brings back the feel of owning music, the compelling presentation of the total album. Think of the gatefold sleeve of the vinyl era, with big full-color panels of artwork and photographs, plus the inner sleeve filled with lyrics, credits, and other information. It added layers of depth and dimension to music."
Roon's revenue model is interesting; users pay $119 per year or $499 for a lifetime. Alternately, server manufacturers can pay a one-time license and then bundle Roon into their product. A few of the companies partnering with Roon so far are Auralic, dCS, Meridian, and PS Audio. The era of every server-maker writing his own kludgy app may be over.
3. Paradigm Concept F4 Loudspeaker
Canadian loudspeaker manufacturer Paradigm unveiled the Concept F4, an ambitious engineering exercise that incorporates a host of innovative ideas about loudspeaker design. The Concept F4 is a floorstanding semi-active system (the woofers are powered by 1400W of integral amplification) with a beryllium tweeter and 7″ beryllium midrange drivers. The perforated midrange and tweeter covers are "phase-aligning lenses." The four 8.5″ woofers are arranged in an opposing configuration (two front firing, two rear-firing) to cancel vibration. The powered woofer section includes Anthem Room Correction to provide flat response at the listening position. The midrange and tweeter section are passive, allowing you to choose your own amplifier. Under development for more than five years, the Concept F4 sounded exceptional in a brief demo, with astounding bass extension and definition coupled to neutral, detailed, and transparent midrange and treble reproduction. The Paradigm representative wouldn't even hint at the projected price or availability date; the Concept F4 is truly an engineering concept and not yet a product.
4. Jeff Rowland Design Group Daemon Integrated Amplifier
Remember when integrated amps were underpowered stopgaps until you could afford real electronics? The trend toward no-compromise integrated amps has surely reached its zenith with the Daemon from Jeff Rowland. For starters, the Daemon offers 1500Wpc of output power (2500Wpc into 4 ohms), along with a whole host of features and capabilities. These include a modular construction that allows the Daemon to be configured as you need it, and also to accommodate changes in technology standards. The unit comes standard with an array of digital and analog inputs, DSD decoding, Bluetooth remote, and optional WiFi and HDMI input modules. The user interface is a 7″ x 5″ touchscreen that appears to be extremely well thought out. The coolest touch is a solid aluminum volume wheel mounted in bearings that give it the feel of a bank vault's tumblers. The Daemon is supplied with a machined aluminum remote, or it can be controlled via iOS or Android apps. The price will be $38,800 when it begins shipping in August.
5. Soulution 760 DAC
The makers of the extraordinary electronics that were named TAS' Overall Product of the Year in 2014 have turned their attention to digital conversion with the 760 DAC. Soulution's new DAC employs a custom upsampling filter running an Anagram Technologies algorithm on a SHARC DSP. The unit features Soulution's Zero-Phase-Technology, a circuit that removes phase errors introduced by the analog low-pass filter. The clock appears to be quite sophisticated, and unlike those used in other high-end DACs. The power supply is massive and elaborate, with more than 500,000 microfarads of filter capacitance—more than that of some power amplifiers. The 760 was featured in the system that I thought was easily the best sound of the show—Soulution 725 preamp, 701 power amplifiers, Magico Q7 Mk II loudspeakers, and Critical Mass Systems Maxxum racks and amp platforms. We did some comparisons with Soulution's CD player, and the new 760 DAC was clearly superior. As with other Soulution products, the 760 is premium-priced at $55,000.
Auspicious Debuts
Germany's AVM launched a wide range of new products including the all-new Evolution line. Many of the products are integrated systems that include power amplification and streaming DACs, and some are offered in two versions—solid-state or tube output stages. The MP 5.2, for example, incorporates a CD drive (a high-end unit sourced from TEAC) with a UPnP streamer, integral Tidal streaming, DSD compatibility, many Internet radio options, network connectivity, multiple digital and analog inputs, and a fully balanced tube linestage fed from a balanced DAC section (dual DACs per channel). Control is via the supplied remote or from iOS or Android apps. The MP 5.2 is just one example of AVM's extensive line of fully integrated audio systems. U.S. pricing has yet to be announced.
Aurender showed its full range of music servers including the new N100, a less elaborate version of its state-of-the-art W20. The N100 lacks the W20's dual AES/EBU outputs and clock input, but still brings to the table 120GB of cache memory, integral Tidal streaming, and Aurender's terrific music-management app. The N100 was first announced as a streamer (no internal storage), but just before the show the company decided to offer it in two forms, as a pure streamer at $2499 or with 2TB of internal storage for just $200 more (called the N100H). The N100H with 2TB at $2699 makes it quite a bargain.
Hegel of Norway introduced the H360 integrated amp, the replacement for the highly acclaimed H300. The H360 is considerably more advanced than the H300, with a new implementation of Hegel's SoundEngine circuit. It features the same input stage and output transistors as the company's $15k H30 amplifier. A larger power supply allows it to deliver 1.5 times the current of the H300. A new DAC section (based on the latest chip from AKM), fed from is own power transformer, is reportedly cutting-edge. The H360 outputs a hefty 250Wpc, and will carry a U.S. retail price of $5700.
MSB Technology pulled out all the stops on its new $90,000 DAC called the Select 2. This modular design was created from a clean sheet of paper, rethinking everything MSB has learned about digital-to-analog conversion over the past 25 years. It runs on two new high-horsepower DSP chips with plenty of room for future capabilities. The Select 2 employs 16 DACs in parallel so that the DACs can drive the output stage directly with no need for a current-to-voltage converter. The new clock has half the jitter of MSB's acclaimed Femtoclock. The entire unit, including the chassis machining, is built in-house. Amazingly, owners of the Select 1 can upgrade to the Select 2 at no charge.
The venerable Swiss company Nagra launched its new Classic power amplifier. The Classic's power supply is unusual in that it's power-factor corrected, but with the power transformer and bridge rectifier before the power-factor correction circuitry. This 100Wpc amplifier's output stage is heavily biased to deliver a large percentage of its output power in Class A. The Classic amplifier sounded wonderful with Nagra's HD DAC at the front end of a system driving Wilson Alexia loudspeakers.
dCS used the Munich show to launch the Rossini series of network players. The Rossini DAC (15,000 euros) can stream music from NAS drives and services such as Tidal, Spotify, and Deezer over Ethernet, as well as Apple's AirPlay. The Rossini Player (18,000 euros) adds a CD drive. Both units employ dCS' Ring DAC along with a streamlined FPGA platform. The Rossini Series features a new control app, and supports DSD in native format as well as DoP (the Rossini Player's drive doesn't support SACD). The units' styling follows in the footsteps of the Vivaldi's striking visual design.
Gunther Frohnhofer, founder of Germany's Acoustic Signature, proudly showed off an extremely ambitious new turntable called the Invictus. Going far beyond the company's $35,999 Ascona that impressed Jonathan Valin in Issue 225, the Invictus is built on an integral platform (no rack or shelf needed). The platter is driven by six motors arrayed around the platter so that there's no lateral tension on the platter bearing. The platter is made from a sandwich of aluminum and brass, an extension of the "Silencer" platter in Acoustic Signature's other models that feature brass inserts. The Invictus can accept up to four tonearms.
In Other News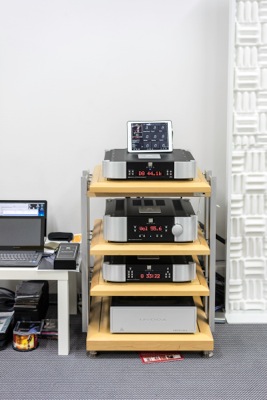 Moon by Simaudio launched its most ambitious DAC/network player to date, the 780D. The unit is built around a dual mono architecture with dual DACs per channel and, in typical Moon fashion, a massive power supply with twelve independent voltage-regulation stages. The network player can accept DSD streaming over Ethernet and integrated Tidal. Nine digital inputs include USB, Bluetooth, Ethernet, and WiFi. The software can be programmed for a custom user interface. Price: $15,000, Q3 of this year.
Revel launched a new line of speakers called the Concerta 2 that brings the company's technologies and values to unprecedented prices—one model, the F16, is just $900 per pair. The floorstanding version, the F35, is $1500, and a dual-woofer floorstander will sell for $2000. All use metal-cone woofers, custom drivers, beautiful cabinet finish, and offer a higher sensitivity (90–91dB) than Revel's top speakers. A subwoofer with a 10″ driver and 800W of integral amplification will round out the line. All models are scheduled to ship in early Q4.
Turntable manufacturer Kronos, famous for its 'tables featuring a pair of counter-rotating platters, introduced a new, more affordable turntable called the Sparta 0.5. It is based on a single platter, but can be upgraded later to a full dual-platter Sparta. The 0.5 is $15,000, and the upgrade kit to add the second platter is $7500, which represents a $1000 premium over buying the full Sparta initially. We have a review of the Sparta in the works.
German turntable manufacturer AMG, whose factory we visited three years ago during the Munich show, introduced a new lower-cost alternative to its excellent Viella 'table and 12J2 tonearm. This new player is the Giro G9 mounted with the 9W2 tonearm ($10,000). The Giro G9 shares many design elements with its progenitor, including a high-mass machined pulley and decoupled spindle. The new 9W2 tonearm is based on the innovative bearing design pioneered in the 12J2. AMG machines virtually every part of its turntables and tonearms in its Bavarian machine shop/factory, as we saw on our tour three years ago.
ModWright Instruments supplied all the electronics, including its new PH 150 dual-chassis phonostage and Elyse DAC, in a system terminating in a pair of highly unusual horn speakers from Tune Audio of Athens. The loudspeaker, called the Anima, employs a 15″ driver in the top of the enclosure firing downward through the enclosure and out the bottom, coupled to a spherical midrange horn made from birch ply and a spherical tweeter horn driven by a 1″ compression driver. Sensitivity is a whopping 109dB. The system was connected with Skogrand cables.
Best Sound (cost no object): Magico Q7 Mk II driven by Soulution electronics and supported by Critical Mass Systems Maxxum equipment and amplifier stands. By far the best demonstration of all these brands at a show.
Best Sound (for the money): I'm going to pick the Tannoy Revolution XT 8F loudspeaker ($2600 per pair), just as I did at last year's CES, for raising the bar in affordable speaker performance.
Most Significant Product: The Roon music-management software could be a major advance in accessing and interacting with file-based music—and end the era of clunky apps that are supplied with many servers.
Most Important Trend: The integration of streaming services in music servers and their control apps. Whether the music is streamed over the Internet or from your NAS library is quickly becoming irrelevant.
Most Coveted Product: The music server loaded with MQA-encoded files and Meridian's new 808 CD player/DAC with MQA decoding. 
Tags: HIGH END MUNICH
By

Robert Harley

My older brother Stephen introduced me to music when I was about 12 years old. Stephen was a prodigious musical talent (he went on to get a degree in Composition) who generously shared his records and passion for music with his little brother.

More articles from this editor