TAS at RMAF 2010: Steven Stone on Digital and New Technologies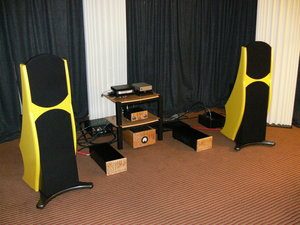 Steven Stone on Digital and New Technologies
When RMAF closed at 4:00 on Sunday I scurried to make a 5:00 PM band practice in Boulder. At the rehearsal I was floored when Rise, our fiddle player, told me that she had gone to RMAF totally out-of-the–blue on Saturday, alone, got hit on a bunch, and had a great time. "Some rooms were so scary I didn't even walk in. I mean, all that stuff all over the floor. And the smell…I LOVED the smell of the tubes, but the folks, not so much." For once I was speechless.
Clean But Not Mean
The Iris room was the least cluttered room at RMAF. Empirical Audio, Salk Sound, and Balanced Power Technologies demonstrated how you can have great, and I do mean great, sound without having a room that looks like a giant dumped his TinkerToys all over the room. With Salk SoundScape 12 speakers ($13,999) connected via BPT SC-6 Signature PLUS cables ($1999) to Empirical Audio-modified Parasound Halo JC-1 monoblock amplifiers driven by Empirical Audio's Overdrive Signature DAC ($3699 base price) connected to a Mac Mini, the sound was lucid, nuanced, and above all, involving. Chris Hoff, from BPT, set GIK Tri Traps, 242 panels, diffuser stands and QRD diffusers so they were effective yet unobtrusive. We're talking high wife appeal factors here.
Room 2024 was crowded, yet it also demonstrated how equipment could be compact and unobtrusive while still sounding fabulous. GR Research had a pair of bumblebee-yellow Super V open-baffle speakers ($2495 for a kit with everything but the cabinets) powered by Dodd Audio Hybrid monoblock power amps ($4800) connected to the Dodd Audio buffer ($850 kit, $1199 built). The front end included a Mach 2 Mac Mini computer ($1495), which had a 40GB solid-state hard drive with a specially optimized version of the Snow Leopard operating system and music player software. The Mach 2 was connected to dB Audio labs Tranquility Signature DAC ($2395) via dB Audio Labs Signature USB cable ($395). MPC supplied several Mac Mini accessories including its MACSandwich computer platform ($149), Mac Min power cable ($295), and Source One D/A power cable ($295). All components were connected to PI Audio UberBusses. The overall result was a seemingly effortless presentation of music. I was especially impressed by the room-friendly nature of the system.
In Room 1030 the speakers were large while the rest of the system was relatively compact, and the overall sound was amazing. Daedalus' Ulysses ($13,000) were driven by ModWright Instruments' KWA 150 amplifier ($6000) and attached to a Bolder Cables DAC ($2000) and a Bolder Cables-modified Logitech Touch ($1500 including the Touch). The Touch modifications can be done a la carte as well. Bolder's digital-only mod ($300) consists of improving power-supply delivery and decoupling the critical digital sections. Bolder also installs a custom voltage-regulator circuit just for the digital output section and clocks. Finally, all crystals and electrolytic capacitors have resonance-control material added. Analog section mods ($225) include improving power-supply delivery and decoupling it from the DAC chip. Then Bolder removes the electrolytic coupling capacitor from the analog signal path. The last of the Bolder mods is its deluxe power supply ($750), which uses a hand-crafted, point-to-point-wired circuit with a feed-forward shunt regulator.
Besides his asynchronous USB DACs, Wavelength's Gordon Rankin had a multiplicity of techno tricks up his sleeve. The first was Streamlength, his proprietary asynchronous protocol. Rankin says, "Streamlength assures the DAC chip will get lower jitter data than other asynchronous interfaces." Wavelength also showed the latest versions of the Crimson ($7500 base price) and the Cosecant DAC ($3500). These HS (High Speed) editions now can be used at rates up too 192/24. Even Wavelength's least expensive USB DAC, the Proton ($900), supports 96/24. And if you already have a first-class conventional DAC, the new Wavelink HS USB-to-S/PDIF adapter can deliver a 192/24 signal from your computer to your DAC. Finally, Wavelength unveiled its AyreWave audio software, which is a stripped-down high-performance player developed by Steve Booth (who also wrote Play) for Macs that uses 64-bit floating-point precision, has HOG mode, plays files entirely from memory, and even support FLAC files. Best of all, it's free. A download is available at http://sbooth.org/AyreWave/.
Bryston unveiled its BDP-1 digital player ($2100). Designed to play high-resolution digital files from USB drives, it will support any size USB drive and any lossy or lossless digital file including FLAC, WAVE, AIFF, Apple Lossless, WMP, and MP3, at any bit rate from 44.1 thorugh192kHz. It can be connected to a home network using a router and Ethernet connection, but that is solely to enhance operability via network-enabled devices such as a computer, Apple iPhone, or iPad, which then provide access to playlists, album artwork, etc. The network is only used to interface with your music library. The design goal for the BDP-1 is to eliminate all of the challenges associated with streaming high-resolution digital files over a home network. It will be shipping by the end of 2010.
In Room 513 MSB displayed the full spectrum of its gear, including their M202 monoblock amplifiers ($17,500) Platinum DAC IV Diamond ($25,995) and Platinum Data CD IV transport ($3995). All MSB digital DACs support everything from MP3s up to 384 kHz/24 bit files. The music coming though a pair of Harbeth HL-5 speakers ($4299) was detailed yet musical, and it was hard to drag myself away to continue covering the show.
Newcomer Blackfire Research premiered its Bearclaw Smart Amps ($6800/pr). These 100-watt RMS monoblock amps include a 24-bit 192kHz AKM DAC as well as the ability to be a standard network client. The Bearclaw amps are smart because they will accept a digital stream from any other network-aware device such as your computer, smart-phone, or iPod.
On the affordable end of the digital spectrum Emotiva was showing its new XDA-1 DAC. It includes USB, AES/EBU, RCA coaxial S/PDIF, and TosLink inputs, supports 192/24 files, uses a Burr Brown Sigma-Delta AD 1955 chip, has fully discrete differential balanced analog outputs, and best of all will cost $299. Can you say "best buy" boys and girls?
Another couple of affordable alternatives came from Peachtree Audio. Its 20-watt per channel MusicBox system ($699 w/o speakers, $799 with mB3 speakers, $999 with DS 4.5 speakers) includes a digitally connected iPod dock, USB and coaxial inputs, a tube preamplifier circuit, a MOSFET power amplifier, and an IR remote, all for a mere pittance.
Perennial champagne-on-a-beer-budget market-leader Audio by Van Alstine was using Salk Songtower speakers ($1899 base price) coupled to its new AVA Ultravalve purist vacuum tube amplifier ($1699), AVA AvaStar hybrid preamplifier ($1799), and AVA Vision Hybrid DAC ($1999). I asked Frank Van Alstine about the cabling in his system and he laughed, "It's probably from that 100-foot roll I got from Radio Shack a couple of years back." Despite or maybe because of the cable, the system was musical, dynamic, and something any audiophile could enjoy without reservation.
Show-goers carrying USB flash drives full of music were ubiquitous at RMAF, as were new components offering USB slots for playing them. McIntosh premiered two new products that included USB ports, the C48 ($4500) and C50 ($6500) preamps. While I was in its room, Ron Cornelius showed me McIntosh's soon-to-be-released App for iPods and iPads. With the new App, users will be able to select tracks, artists, play lists, and albums, as well as control the volume of the music, with all controls fully customized and consistent with McIntosh styling and functionality.
Software Everywhere
Sonic Studio used RMAF to premiere their newest release of Amarra 2.1 for their full ($695) and mini ($295) software. The new build for the full program includes RAM-based cache playback, native FLAC support, advanced EQ features, two re-dithering algorithms, and the ability to operate as a stand-alone player independent of iTunes. Sonic Studio also had the first public demonstrations of Amarra Vinyl ($695) and Amarra Complete ($895). Amarra Vinyl combines stereo recording up to 192kHz, with full 4-band Sonic EQ and a select set from the NoNOISE II restoration suite. Amarra Complete is a preconfigured music server solution for Apple Mac computers. The Amarra Complete solution delivers a fully loaded music drive, pre-configured with licensed copies of Amarra and Mac OS 10.6, all optimized for music playback. Amarra Complete is intended to be an easy plug-and-play solution for audiophiles who want to use Amarra without having to learn how to set up and use a computer.
Channel D Software was showing the latest version of Pure Vinyl ($229) during the Rob Robinson's "LP Ripping Session" seminar. It will include the capability to rip and edit 192/24 files and will be available by the time you read this.
For those hardy souls who want to build their own audio PC from scratch, Genesis Advanced Technologies was giving out a newsletter with owner Gary Leonard Koh's recipe for building an audio PC from the ground up. It will be called the Absolute Fidelity Music Server. Gary told me it would cost about $750 in parts. If you can't or don't want to go the DIY route, High Performance Audio and Video products has assembled its Kosmic Server ($2295 base price), which is based on Gary's formula, but with a few tweaks of its own, including a 500GB solid-state drive, and J River Media Center 15 interface.
I always stop by MA Recordings to see what Todd Garfinkle has in the way of new releases. This year Todd played me his latest 176.4kHz/24-bit computer-only DVD ROM recording from the Argentine acoustic jazz group, Puente Celeste. The album, Nama, is also available as a 96/24 DVD. As is the case with all of Todd's work, the album sounded amazing, so amazing that I bought both versions.
Steven Stone's Best of Show
Best Sound (cost no object)
Being the magazine's contrarian isn't easy, but for me the sound in the Iris room featuring Salk Soundscape 12 speakers, the Empirical Audio Overdrive Signature DAC, and Balanced Power Technologies Cabling was the one that moved me the most.
Best Sound (for the lowest price)
The best sound from a modestly priced system came from Room 2024 where the GR Research Super V speakers were holding court. With the tricked out Mac Mini from Mach 2 and the dB Audio labs' Tranquility Signature DAC as well as Uberbusses all around, the results were something I could easily live with for a long time.
Greatest Bargain
There were many components vying for top honors in this category. In software, the free Mac player app from Steve Booth and Gordon Rankin, Ayrewave, gets the nod. In hardware I have to give it to Emotiva and its new XDA-1 DAC. For $299 it offers a feature set usually found only on over-$1000 DACs.
Most Significant Product Introduction
New software from Channel D, Sonic Studio, and Wavelength are harbingers of the bright future of high-end audio. As all these software packages are better sounding than their predecessors, offer more features, and do it at lower prices (or in Wavelength's case, for free). And two of the three have FLAC capabilities for MAC, finally.
Most Important Trend
I saw a plethora of USB sticks and USB-stick-enabled DACs, players, and audio computers to play them. I didn't see a single CDR at the show. USB sticks are way better, both ecologically (reusable) and sonically (no jittery disc reader to muck things up.) Maybe by next show even JV will be carrying USB sticks instead of LPs! 
Tags: LIST