MUNICH 2019: Sources and Cables
Munich High End is undoubtedly the largest high-end audio extravaganza in the world. It not only featured some of the best products recently displayed at AXPONA Chicago (another incredible show!), but also a wide array of products thus far unseen on North American shores. I've never set eyes on so many turntables, horn loudspeakers, and exotic products in one venue!
My "beat" this year was sources and cables—essentially every room at the show. As this was a daunting, if not impossible, task, I focused on those sources and cables I could actually hear in systems, rather than those on static display. I also avoided rooms where I couldn't get a seat and/or those that doubled as saunas (Note to exhibitors: Turn the AC back on in your room or at least open a window)! My apologies to those manufacturers and distributors I missed.
The Best: Systems with Analog Sources
The Reed Muse 3C turntable (€15,850) and Reed 5T tonearm (€14,900) with Topwing Suzaku (Red Sparrow) cartridge, coupled to a NEM Phono Kit 4 phonostage with tube power supply, and the formidable YS Sound Electronics amps and preamp, was sourcing the breathtaking Zellaton Reference MkII loudspeakers. Wired with Schnerzinger Atomic Bonding cables and Giga Pulse Protectors (a highly effective adjustable high and low frequency suppression system which protects the audio signal from interfering fields) the system produced the most captivating, palpable, and uncolored sound of the show! The Reed 'table can be converted into a belt-drive unit, but I did my listening with the 'table in friction drive. The impressive Reed 5T is a tangentially tracking pivoted tonearm (based on Thales' Theorem). It uses an array of lasers to maintain correct positioning. The lack of cartridge tracing errors led to a very low distortion presentation that had incredible transparency and beautiful tonal color through the marvelous Zellatons. Notes decayed naturally as they do in a concert hall. Slap bass on "The Awakening" had tremendous speed and transient quickness. It was a thrilling ride. For me, it was the best sound of the show!
The DeBaer Saphir turntable (€58k) with DeBaer Onyx tonearm (€19k) and EMT cartridge was at the front-end of another outstanding system with Soulution 7 series electronics, Magico M6 speakers, Critical Mass Systems Olympus racks and Center Stage feet, and Vovox cables. The DeBaer effectively decouples all relevant chassis parts, with minimal interaction between the turntable and tonearm. On the last day, this system produced the best bass I heard at the show with terrific extension, articulation, and control on a Michel Jonasz recording ("Le Temps Passe"). I have never heard the M6 speakers go so low with so much air—it was visceral! The rest of the sound was excellent, too, with lots of subtle and refined detail across a broad and deep soundstage.
The Continuum Audio Labs Obsidian turntable ($35k) with Viper tonearm ($10k) and Ortofon A-95 cartridge ($6k) served as the analog front end of a very enjoyable and engaging system, including the Constellation Andromeda phonostage ($18k) with DC filter ($5k), and Constellation's Pictor preamplifier and Taurus monoblock amps. These more affordable Constellation electronics combined with Magico M2 loudspeakers with M-Pods and Nordost Odin2 cabling to produce lots of fine detail emerging from a jet-black background without added sibilance. "The Great Gate of Kiev" was riveting with impressive dynamics and slam yet quieter tracks from the Dream with Dean album reproduced Dean's voice with rich, natural timbre and wonderful transparency.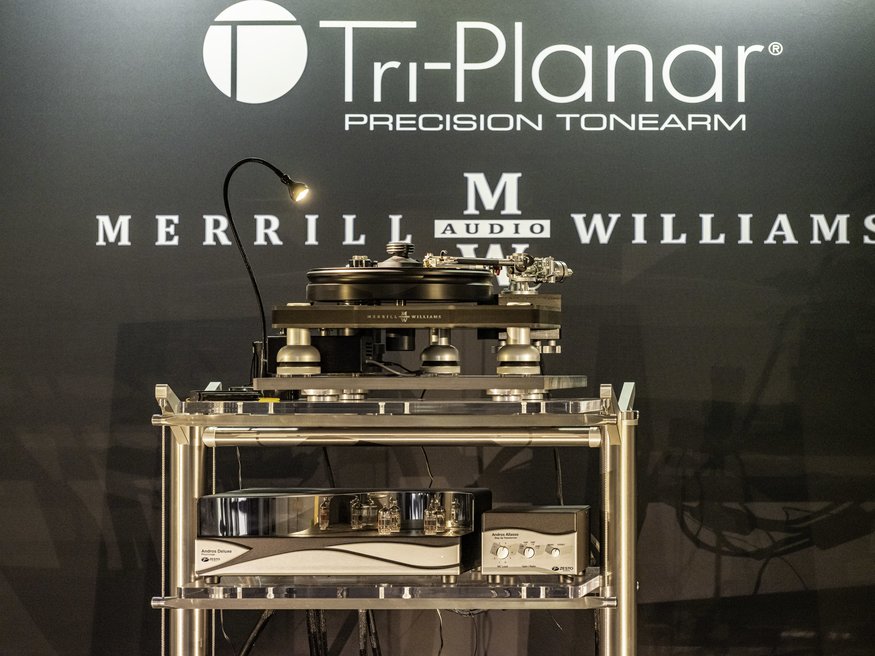 George Counnas of Zesto Audio always seems to assemble one of the best-sounding rooms at tradeshows and Munich was no exception. It helps that he uses his own gorgeous-looking-and-sounding electronics (including his new Andros Deluxe Vacuum Tube Phono Stage, which incorporates many of the internal features of the Zesto Tessera), and the ultra-quiet Merrill Williams REAL 101.3 turntable ($7995), with the superb Tri-Planar U2 Classic tonearm and a Benz-Micro Gullwing cartridge. The latest Merrill-Williams 'table has more resonance control than the original model I own, particularly in the armboard. Verity Audio Amadis S speakers and Purist Audio Design cables (including its new Diamond Revision Neptune AC cable, with an enhanced fluid dampening material to reduce noise and vibration and Furutech NCF power connectors) rounded out the system. On Lieutenant Kije, the timbres of the instruments were beautiful and natural with lots of air. Instruments emerged from an utterly silent, black background, and the leading edges of transients were very clean. I thought I was listening to a mastertape!
The Acoustic Signature Invictus Jr. turntable ($85k) with an Airtight Opus 1 cartridge ($16k) helped produce stellar sound at the front-end of a system with the stunning, vertically-oriented VAC 450iQ integrated amplifier and Von Schweikert's impressive Ultra Reference 9 loudspeakers connected by Masterbuilt Ultra Line cables. The Invictus Jr. helped provide great solidity to the sound, which was lively yet natural on Ray Brown's "Exactly Like You." The piano was reproduced with great clarity, immediacy, focus, and slam.
A VPI HW-40 Direct Drive anniversary turntable ($15k), with rock-solid speed stability, was connected to the Pass Labs XP-25 phonostage using MIT's amazing Oracle MA-X SHD Phono interface with formant controls and 110 poles of articulation, as well as MIT's new Powerbar II (with switching power factor controls). A Pass Labs XP-25 preamplifier and X600.8 monoblocks with Oracle SHD interconnects and an MIT ACC 169 articulation control console provided the speaker interface (via Oracle jumper cables). Perhaps that's why the MartinLogan Neolith sounded more free-flowing, open, and relaxed in Munich than I've heard it at any previous show, with rich, lifelike timbres (since overtones are reproduced so accurately with the MIT phono interface). The noise floor was extremely low allowing more fine details to emerge on Liszt's Hungarian Rhapsodies with excellent dimensionality and bass articulation.
Nordost was also featuring a VPI HW-40 Direct Drive anniversary turntable with Moon electronics and YG Hailey 2.2 speakers to demonstrate its new Valhalla 2 tonearm cable, as well as its QSource linear power supply and DC cable, and QPoint pucks. In a very fine demo, the sound improved considerably with the addition of these products, with enhanced clarity and dimensionality. I was also impressed by the VPI's speed stability on sustained bass notes on a Gary Karr recording.
The Thales Compact II turntable ($15,530) with battery drive and the Thales Statement tonearm ($20,250) with EMT JSD VM ($5,400) cartridge and EMT STX 5/10 Step-Up Transformer ($9,280) was at the front end of another very good sounding system with Nagra Classic electronics and YG Acoustic Hailey 2.2 speakers. It featured very low distortion and coloration, great clarity and detail, rich timbre, and terrific balance. Got to love those tangential pivoted tonearms!
Musical Surroundings always introduces exciting new analog products in Munich, and this year it was the striking AMG Viella Forte 12 Turbo turntable ($30k standard; $32k engraved version) with AMG 12JT Turbo 12″ tonearm and DS Audio DS-E1 optical phono cartridge ($2750). Compared to the original Viella, the Forte features a larger and thicker plinth machined from a solid block of aluminum, a taller and thicker platter, a higher mass and more ergonomic clamp, a larger diameter arm base, enhanced drive electronics, and a new power supply design and housing. The beautiful engraved version of the Viella Forte was paired with Aesthetix electronics and ProAc KG Signature speakers. The system produced solid and articulate bass with very good soundstaging, focus, and speed stability. It handled big dynamic swings effortlessly without any mistracking and was very quiet with virtually no surface noise on an old LP. On another note, Aesthetix introduced a new phono board for its highly regarded Mimas integrated hybrid amplifier, but it was on silent display.
The dual-platter Kronos Pro Turntable ($42k) with SCPS1 power supply, ZYX Universe 3 cartridge and Black Beauty tonearm combined with the elegant Estelon Forza loudspeakers driven by CH Precision electronics with cabling by Kubala Sosna to produce lovely timbre on voice, massed strings, and piano. Clarity and fine detail retrieval were also very good and the speakers virtually disappeared! This was an auspicious debut for the Forza!
Pear Audio Blue's top-of-the-line Odar turntable with Cornet 2 12″ tonearm ($18k with 'arm, separate power supply, and platform) and the powerful Raidho TD 3.8 loudspeaker made their world premieres in Munich in an impressive system with Chord electronics and GamuT cables. The Odar features two armboards that can accommodate 10- or 12-inch arms, a more massive and larger platter, improved isolation, an electronic speed controller, and an upgraded motor housing, while maintaining an ultra-low-torque motor that decreases energy transfer from the motor to the platter by over 90%. A Top Wing Blue Dragon cartridge ($12k) helped produce an ultra-quiet presentation, with very good speed stability and fine detail retrieval. With the new Raidho speakers, the system had outstanding immediacy, clarity, coherence, and presence—my toes were tapping!
The TW-Acustic Raven Black Night turntable coupled with a Dynavector XV-1 S cartridge and a TW phonostage was an exquisite source for Verity Audio electronics and its beautiful Lohengrin 11S Reference loudspeakers. The excellent Cardas Clear Beyond cables completed the system. A recording of "Send in the Clowns" was very engaging with beautiful timbre and all kinds of inner details emerging from a very quiet background. While the soundstaging was broad and deep the voice was somewhat larger than life.
The new SME Model 12a (€10,250) made a terrific debut in Munich in a system with Nagra electronics and Spendor Classic 100 loudspeakers. The Model 12a includes an SME 309 tonearm and an external electronic control unit. Elvis' voice seemingly came out of nowhere as the SME was utterly silent. This appears to be a very good upgrade from the company's Model 10.
A TriangleArt Master Reference turntable ($40k) and the company's Osiris tonearm ($7k), Apollo MC cartridge, and TriangleArt electronics, combined with the exciting Muraudio SP1 electrostatic hybrid speakers to produce one of the best sounds at the show. The system had "reach out and touch you" palpability on female vocals and percussion had incredible snap and clarity. The analog front-end was very silent and detailed.
More affordable analog
At the more affordable end of the spectrum the ELAC Miracord 90th Anniversary turntable (€2499) combined with ELAC Alchemy electronics and the ELAC Carina loudspeakers to produce fine sound with good detail and very good imaging, but with a hint of added sibilance on voices. However, the midrange was open and inviting and the system was surprisingly extended at both ends of the frequency extremes. AudioQuest Thunderbird speaker cables, AQ Wind interconnects, and a Niagara 7000 power conditioner with Hurricane AC rounded out the system. This is another high-value, good sounding system from ELAC.
The Gold Note Mediterraneo turntable (from $6k) with upgraded B7 (titanium) tonearm, and Tuscany cartridge made an auspicious debut in Munich in an all-Gold Note system with IS-1000 integrated and A3 EVO bookshelf speakers. The gold leaf finish is applied to the turntable by hand and the speaker not only looks great but also produces a very lively and engaging sound on jazz piano. The Mediterraneo had good speed stability and was pretty quiet, although I'd like to hear it in better conditions. This compact and attractive Gold Note system should really appeal to those who value PRAT highly.
Another pleasant surprise was the Mag Lev Audio ML1 turntable ($3599 in black with Ortofon 10 cartridge) in a system with a Roksan integrated and small Triangle speakers. Combining coils and magnets, the platter actually floats. The lack of motor noise made for a very clean, detailed sound with great speed stability.
Manger Audio was demoing its p2 passive speakers, using a terrific bending-wave transducer for the mids and highs, with SPL electronics and a new Scheu Analog Das Laufwerk No. 2 acrylic turntable (€9850) with Scheu Tacco uni-pivot tonearm (€2800) and Scheu MC Kupfer L cartridge (€1190) based on the Benz-Micro Glider S. The Scheu 'table can accommodate up to three armboards and sports a separate electronically regulated DC motor. The sound of the system was quite lovely and natural with very good speed stability and coherence. On Symphonic Dances the dynamics were explosive yet under control. I thought I was not only listening to a top-end turntable and but an overall system that outperformed several systems costing far more!
Digital Front Ends: The Best
The new Nagra HD DAC X (€62.5k) combined with Nagra's HD electronics and YG Sonja XV Jr. loudspeakers and YG InVincible subwoofer in another digital system that sounded like analog (until they switched to a Nagra reel-to-reel deck). The new Nagra HD DAC X includes many of the technological advances from Nagra's acclaimed HD Preamp such as a dual-mono topology, a vibration-free stand, and a new generation of Nagra transformers. Its main digital power supply has a noise level 30 times lower than the HD DAC, and it uses at least 37 regulated, ultra-low-noise, individual power supplies, ultra-low-jitter clocks, and a high-performance FPGA for internal calculations. All input signals are converted into the DSD 256 format. On Pictures at an Exhibition the digital system had solid, concussive bass and explosive dynamics yet avoided any hint of digital edge. On "Guantanamera" I thought I was listening to an analog source, as the guitar and voice had natural timbre and an appealing, mesmerizing harmonic richness.
A Spectral SDR-4000SV Reference CD Processor ($20,000), Spectral DMA-260 amplifier and 30 SV Reference preamplifier, the marvelous Wilson Audio Sasha DAW speakers, and MIT cables (UL 2C3D level one interconnects and speaker cables) produced explosive dynamics and solid bass on Copland's "Fanfare for the Common Man." Better still, timbres on acoustic instruments sounded very natural with a lot of air behind them, and the system had very good imaging and focus. I couldn't believe I was listening to a digital source. This was one of the better-sounding systems at the show.
The ReQuest Raptor Plus server/DAC ($15k) was at the front end of a system with the beautiful Absolare Passion integrated and Rockport Atria Speakers. Echole Infinity cables and Torus Power AC conditioner rounded out the system. The Raptor is a scaled-down version of the ReQuest Beast and with the Absolare sounded very musical with natural timbre and very good retrieval of fine details. Once again I thought I was listening to analog (a good thing in my book!).
Another system that reproduced timbres naturally was in the Kharma room, featuring the awesome Kharma Enigma Veyron EV-2D-1.0 speakers, and Kharma electronics and cables. Kharma has companion cables for each of its major product lines—in this case the Enigma Veyron where "special care is taken for each conductor separately." With a dCS Vivaldi as the digital front end, the sound was rich and engaging across a broad and deep soundstage. Dynamics were explosive and Harry Belafonte's voice was palpable.
The Aavik C-300 preamplifier with DAC served as the digital front end to a thrilling system with Aavik M-300 monoblocks, Borresen 05 speakers, and Ansuz DTC Supreme cabling, which has half of the inductance of its predecessor. By so effectively damping resonances, one can hear deeper into the music. It makes for a very engaging system! As in Chicago, this combination was stunning with incredible soundstaging, bass slam and articulation, and transient speed—it sent shudders down my spine! Mercifully, the system also produced natural timbres along with incredible detail.
An MSB Select DAC ($84.5k) held its own with a formidable Kronos Pro turntable ($38k) in another system with Magico M2 speakers, Soulution electronics, MIT speaker cables, and a Shunyata Denali power conditioner. The MSB sounded like analog with outstanding clarity, a broad and deep soundstage, and harmonic richness without the typical digital edge. The Kronos Pro provided the analog front-end to several of the better-sounding systems in Munich.
The Ayon S-10 II Vacuum Tube Network Player (from $8800) employs a modular design integrating an analog preamp and totally independent streamer/server modules and a dual mono DAC and PCM-to-DSD converter. This elegant unit uses a 6H30 tube and no solid-state devices in the analog tube output (signal path). In a system with Ayon tube electronics and Ayon Black Eagle speakers, the sound was very analog-like with great body and soundstaging, as well as natural timbre. It sounded lovely on piano and voice, and rich on massed strings. There was a lot to like!
Crystal Cable featured its Future Dream series cables (power and interconnects) in an engaging system with its Minissimo Diamond-Scala speakers and Crystal Cable Integrated (CCI). The hybrid Future Dream cables feature monocrystal silver and a silver-gold alloy. (A new Future Dream phono cable was on silent display.) The digital front-end of the system was a dCS Rossini player and DAC. On a piano recording of a Liszt Piano Concerto, there was an abundance of fine detail and clarity and one could really hear into the music. The great high-end extension of the system produced natural timbres and the music seemed to breathe.
The Brinkmann Nyquist MkII streaming DAC ($17,900) excelled in a system with Brinkmann electronics (Marconi Mk11 preamplifier and Mono power amplifiers), Vandersteen Audio Model Seven MkII loudspeakers and Sub NINE subwoofer, AudioQuest cables, and Harmonic Resolution Systems VXR rack. Piano was very clear with startling transient attacks, and the sound was alive and immediate with very good bass extension, transparency, impact, and slam. Voices were very nicely portrayed without added sibilance or digital edge.
The Innuos Statement music server (from $13,750) was shockingly three-dimensional in a system with Bowers & Wilkins 802 D3 speakers, a Gryphon Diablo 300 integrated amp with DAC, and Isotek EVO3 power conditioning. Innuos' ZENith Mk3 music server (from $4249) had a familial sonic resemblance to the Statement (a good thing), but with less soundstage depth than its more costly sibling. The Statement was also more relaxed and natural.
The modular Wadax Atlantis Reference DAC was paired with Kharma's majestic Grand Exquisite speakers, with a Robert Coda preamplifier, Engstrom monoblocks, and wired with fono Acustica cables to produce one of the best sounds of the show. The Wadax uses a unique feed-forward error-correction system that operates in the time domain and advanced jitter-reduction technology. I could hear the body and richness of instruments and the full acoustic of the piano. Additionally, the size of the piano was in proper perspective (not larger than life) and its focus was excellent.
Esoteric was featuring its Grandioso DIX dual-chassis monoblock DACs ($50,000 pr.) and P1X transport, with Esoteric electronics and AudioQuest cables. On MQA-encoded recordings, the sound was quite natural with great clarity, open highs, and solid and articulate bass. The system with Sonus faber Amati Tradition loudspeakers was not only quite detailed with lots of punch, but it was also easy on the ears.
Not to be forgotten was the MBL N31 CD/DAC (€12,000) which combined with MBL Noble Line electronics and MBL's amazing 101 E Mk II Radialstrahler speakers. The N31 utilizes MBL's "anti-clipping" technology producing tremendous dynamic peaks without distortion, as well as extended, articulate bass. This was a very enjoyable and engaging system and made me wish I could have heard the larger MBL system.
More affordable digital
PrimaLuna introduced its new "high-value" EVO models, including the EVO 100 Tube DAC ($2999), in both Chicago and Munich. It uses the latest generation of the company's "SuperTubeClock" circuitry and 12AX7, 12AU7, and 5AR4 tubes. In a system with EVO electronics and Jern 14 loudspeakers, the sound had a surprising richness (at this price) with very good impact, imaging, focus, and clarity. This appears to be a bargain!
Hegel's new MQA-capable 390 integrated ($5.9k) with Roon combined with KEF R11 speakers produced very impressive sound at a relatively modest price. The H390 utilizes the company's Sound Engine 2 feed-forward circuitry, and its DAC is derived from the Hegel Mohican CD player. The system produced powerful bass with very good imaging and coherence. It was a strong candidate for best system for the money.
An Anthem STR preamplifier ($3999) featuring its latest ARC Genesis room-correction software helped bring out the best from a pair of Paradigm Persona 7F speakers driven by two Anthem STR power amplifiers, and connected with Shunyata cables and its Denali power conditioner. Music was provided using an Aurender N10 music server. With the ARC Genesis room-correction software employed, bass was much more even throughout the room with very good imaging. It made the system sound like it was a much more expensive one.
The Linn Selekt DSM ($6825) was center stage in a Linn seminar designed to showcase its modular approach, flexibility, upgradability, and ease of use. The demo succeeded! At its most basic level, the Selekt DSM can function as a high-level streamer and digital preamp or an integrated amplifier. It was paired with an external Linn Akurate 2200 power amp, Linn Katalyst DAC, and KEF Ref 3 speakers. The sound was crisp and immediate, but I preferred the space-optimization option, which yielded a more open sound with better imaging and ambient cues, as well as tighter bass and improved dynamics.
With no room nodes to worry about, one of the best sounds at the show came from dCS' new Bartók network DAC with discrete Class-A headphone amplifier ($15,000) when combined with JPS Labs Abyss AB-1266 planar magnetic headphones ($5495). This single-box digital music player combines a dCS Ring DAC, a high performance music streamer, and a unique headphone amplifier suitable for both high and low impedance headphones.
A Few Seen But Not Heard
While most of this report featured analog and digital front-ends and cables I actually heard in systems, there were a few notable products on silent display that look very promising. First among them was the massive Wilson Benesch GMT ONE turntable system. The company claims it has the "most accurate drive system ever developed for a turntable." MSB displayed its new Discrete DAC ($9950), a modular design with "a lot of the technology of MSB's Select DAC" but at a more accessible price. I'd love to hear it. Clarus Audio had a sneak-peak of its upcoming Aqua Mark II interconnects and speaker cables designed to reduce eddy currents that can slow signal transfers. The speaker cables use the company's patented "Spring-Tension" Spade Lugs, designed to ensure long-lasting, high-integrity connections. Skogrand continues to evolve its line of fine cables but has also introduced a new power distribution box.
JH's Best of Show
Best Sound (price-no-object): Reed Muse 3C with 5C tonearm /YS Sound electronics/Zellaton Reference MkII speakers/Schnerzinger cables.
Best Sound (for the money): ELAC Miracord 'table/ Alchemy electronics/Carina loudspeakers with AudioQuest cables and Niagara power conditioning. Runners-up: PrimaLuna EVO 100 Tube/DAC with Jern 14 speakers; Hegel 390 integrated with KEF R11 speakers.
Most Significant Trend: Much better sounding digital sources.
Most Coveted Products: Zellaton Reference MkII loudspeakers, Nagra HD DAC X, Reed Muse 3C turntable with 5C tonearm.