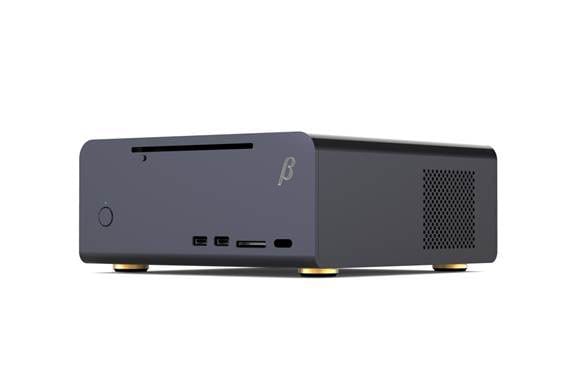 May 15, 2013 – The new Baetis XR™ is aimed at providing the very best audio and video within the very finest home theater setups.  Like our Baetis Revolution™ server, introduced at the 2012 Newport Show, the XR has specially chosen motherboards and RAM to provide the highest possible audio quality in the form of an SPDIF signal, via the shortest possible signal path.  We have the industry's only galvanically isolated and dedicated BNC-SPDIF connector directly off the motherboard, using no separate sound cards (cards that produce and absorb EMI).  Other makers' SPDIF connections are shared not dedicated, resulting in, other things equal, lower current output and lower S/N.  You need to audition one of our servers to see that SPDIF, done right, can beat USB done right, often by a significant margin. 
Like our Revolution, our new XR uses specially configured JRiver media software to play all forms of media.  Unlike ordinary "music" servers, our units can rip and play CDs, DVDs, and Blu-Ray discs – and can download and play hi-def audio files from sites such as HDTracks™ and Reference Recordings™.  The JRiver software can also play native DSD files and, today, professional shops can provide excellent rips of your cherished SACDs, while certain websites provide new DSD material in the form of downloads.  Meanwhile, certain Internet streams, such as from the Berlin Philharmonic Digital Music Hall, provide the very best in live concerts.
While our Revolution model is aimed at the best 2-channel audio systems, our XR was designed from the ground up for the audiophile whose two-channel system is within a high-end multi-channel system.  Video is a critical part of such systems, so the XR allows the user to benefit from the video processing of the finest multi-channel pre/pros, or no additional video processing beyond the Baetis itself.  Our unit is especially designed for the audiophile who maintains a high-quality 2-channel DAC, such as those made by Berkeley™, Weiss™, dCS™, and others, within his or her multi-channel system.  Talk with us about the options for configuring such a system, including the best sounding HDMI multi-channel audio and video.
Visit our website – www.baetisaudio.com  — to review our materials dealing with audio quality, inherent noise measurements of the server, and power supply options (including LiFePO4).  The XR is sold via our small dealer network, and online, for $5995.  We are also the only server manufacturer that provides a full year of telephone and remote desktop support for our servers.  If you are a high-end audio dealer, call us to learn about the new frontiers of digital audio – audio and video that no longer takes a back seat to anything.  And blu-ray discs, properly ripped and played back, are the dominant source of native 32-bit music for now and the future.