Grand Opening of Electrocompaniet North America, Inc.
Electrocompaniet, based in Norway, has been producing audiophile products since 1973, but it is now making a concerted push to capture a significant share of the US high-end market. As part of its strategy to dramatically increase sales on these shores, Electrocompaniet, Inc., a wholly owned subsidiary of the Norwegian parent company, took over North American distribution of all Electrocompaniet products on  April 1st. Moving swiftly, the company showcased its North American headquarters at a Grand Opening in the San Francisco Bay Area on May 1st . I had the pleasure of attending their opening event, listening to some great Electrocompanient systems, and discussing future plans with Mikal Draggevik, Electrocompaniet's managing director and head of research and development, and Peder Beckman, Electrocompaniet North America COO.
According to Mikal and Peder, having direct control of its own sales, distribution, and service in North America should mean good things for Electrocompanient's dealers and customers. There won't be long shipping delays across the water as the North American operation will stock Electrocompanient products and provide timely service here. Without disclosing the details, Mr. Draggevik said Electrocompaniet will employ an innovative sales promotion program to attract and support more quality dealers. This undisclosed program helped Electrocompaniet expand from one to thirty-one dealers in the UK in just one year, and it also produced similar results in Germany.
I was not only impressed by the sound quality achieved in the various Electrocompanient systems that I auditioned, but also by the sheer number of Electrocompaniet products displayed at the Grand Opening, from both its Prelude and Classic series. With the recent acquisition
of a Norwegian loudspeaker company, Electrocompaniet products range from digital source devices to electronics to loudspeakers. Even the products in its more affordable, life-style oriented Prelude line are fully balanced (although they can be run unbalanced, too.).  Pictured to the left is the Electrocompaniet Classic Series system displayed at the Grand Opening, including their amazing Nordic Tone Model 1 loudspeakers.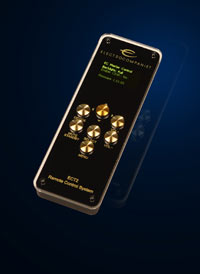 Besides the advantage of "plug 'n play" set-up, the noise floor is lowered and all system elements can be controlled by a single remote. Using an ECT 2 Hybrid Remote Control (pictured on the left) with the Classic-series system, I was able to monitor information on all on the electronics, including the bias current, power output, and transistor temperature of the Electrocompaniet amplifiers, and to change their output from bridged to unbridged to easily move from stereo to multichannel at the push of a button. Very useful and cool! The sound from this Classic series system, with a pair of outstanding Electrocompaniet Nordic Tone Model 1 loudspeakers with all cast-aluminum enclosures, was wonderful—with tube-like liquidity and solid state extension and control. (See the Classic System photo above).
In these tough economic times, it's great to see a high-end company growing so rapidly. Keep you eyes on Electrocompaniet. They're on the move, and will introduce a "cost no object" series of products soon to accompany their Prelude and Classic lines.
An Electrocompaniet Classic Series stack appears on the left, but check out www.electrocompaniet.com  to see the entire lineup of Electrocompaniet products available. Happy Listening!