David Bowie: Loving the Alien (1983–1988)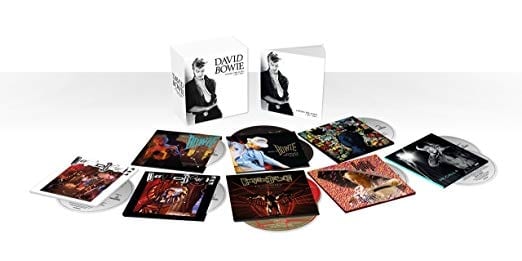 Following his creatively rewarding experimental late-1970s Berlin period collaborating with Brian Eno, David Bowie pulled up his tent to once again recalibrate his sonic milieu in the wake of the burgeoning 1980s MTV era. Not only that, Bowie did it in such a way as to dominate the charts like he never had before—at least during the early portion of the decade, that is. The 11-disc Loving the Alien box set, the fourth such chronological collection in Parlophone's exhaustive and extensive Bowie catalog-reclamation campaign, chronicles the man's key mid-80s output from the apex of his popularity to the exact moment it all went pear-shaped. (Note: If you prefer 180-gram vinyl playback, 15 comparably remastered Alien LPs collectively await the drop of your stylus.)
Let's Dance, Bowie's multiplatinum 1983 effort with funkmaster producer Nile Rodgers at the helm, solidified his mainstream appeal in a highly videocentric age. Here, Rodgers deftly marries his own indelible downtown-groove instincts with Bowie's specifically expressed desire to, quote, "make a hit." The not-so-secret sauce of Let's Dance is the coming-out party for Texas guitar slinger Stevie Ray Vaughan, whose distinct, cutting Lone Star State-bred Fender tone bolsters the underlying churning rhythm of lead track "Modern Love" and the howling B-flat denouement to "Let's Dance." (The latter track is also adeptly punctuated by an expressive three-man sax section.) The two discs that house Serious Moonlight '83 capture the ensuing tour with Earl Slick on lead guitar in place of SRV, with both band and leader putting a bleached-blond sheen on four Dance tracks and other classics like "Rebel Rebel" and "Young Americans."
Unfortunately, 1984's Tonight, the hastily prepped follow-up with Hugh Padgham co-producing, displays super-creeping fatigue and big-machine, stay-on-the-gravy-train pressure within its grooves. That said, "Blue Jean" burbles with bright marimba lines and cheerfully stacked harmonies, while Tina Turner's coolly seductive counter vocals on the reggae-tinged title track portend what might have been if Bowie had taken more care in fleshing out the album.
And then things went far, far off the rails with 1987's disappointing, partially baked Never Let Me Down. Some time before he passed away in January 2016, Bowie discussed rejiggering the album with his latter-era remixer/production collaborator Mario McNulty, who had already commenced the passion-project retrieval a decade earlier when he revamped the underappreciated Down track "Time Will Crawl" for 2008's iSelect. Recently, McNulty told me some of his own full-bore Never Let Me Down (2018) recasting inspiration was the infectious pop energy of 1971's Hunky Dory—and that assessment couldn't be more spot-on for tracks like the cleverly stripped-back "Zeroes." Besides that, Bowie's left-of-center Tin Machine guitar foil Reeves Gabrels, along with avant-gardist axeman David Torn, add much more gnarly and ethereal caterwauling to "Beat of Your Drum," while Gabrels alone punches new-millennium muscle into "'87 and Cry." Additional strings on a trio of tracks including the insistent "Bang Bang," as well as a new spoken-word guest turn from Laurie Anderson on "Shining Star (Makin' My Love)," only serve to assist in the reassertion of the album title's claim.
This clear momentum shift carries through the back half of the collection. Two discs delineate the musical-theater-driven Glass Spider (Live in Montreal '87) set, showcasing Peter Frampton's muscular riff-flexing on "Fashion," "Scary Monsters (and Super Creeps)," and "The Jean Genie," for starters. And if extended remixes punctuated with loads of loud, crackling drum tracks are your thing, then the disc dubbed Dance will fill that bill handily—and "Dancing With the Big Boys" and "Tumble and Twirl" are prime examples. Meanwhile, Re:Call 4 brings two discs' worth of B sides and non-album singles to the table. "This Is Not America," the theme from the 1985 film The Falcon and the Snowman that Bowie cut with the Pat Metheny Group backing him up, seems as prescient as ever. His recurring vocal wailings of "Nooo-oooh!" that follow a number of the breathy readings of the title phrase feel even more chilling now than they initially registered three decades ago.
Though a few cracks appear in its overall veneer, Loving the Alien is a box set quite worthy of the artist's legacy. Ever the clever thin white chameleon, David Bowie was the man who owned the world during a certain portion of the 1980s, putting out fire after sonic fire with gasoline.