Country Music's "Big Bang" Reloaded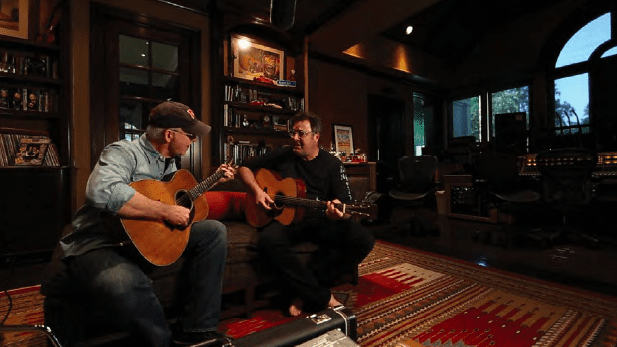 A lot was going on in 1927. That was the year that Al Jolson starred in The Jazz Singer, launching "talkies" and a new generation of film stars. Lindbergh made the first Trans-Atlantic solo flight. Babe Ruth was the home run king, and the same multi-platform cult of personality was spreading to the recording industry.
There was also the debut of Victor's new Orthophonic recording technology, which brought a revolutionary depth and richness to records. While the recording industry struggled against that new technological miracle—radio—New York producer Ralph Peer brought the latest electrical recording equipment to the tiny Tennessee/Virginia border town of Bristol. In two weeks, at sessions coordinated with local musician and talent scout Ernest "Pop" Stoneman, Peer recorded 76 sides for the Victor Talking Machine Co. Those 78s included the first recordings by Jimmie Rodgers and the Carter Family, arguably the two most influential acts in country music history. 
Those would be the biggest stars to emerge from those sessions, but the Stoneman Family wasn't far behind.  "Pop" Stoneman had sold half a million copies of his "Sinking of the Titanic," and his kids Patsy, Donna, Roni, and master fiddler Scotty (whom Jerry Garcia would later compare to Jimi Hendrix) all would have long careers of their own. But the repertoires and styles of Rodgers and the Carters tower over the other musicians who participated in those sessions. Rodgers became the archetype for all guitar-picking country stars that followed. His many classics include "Mule Skinner Blues," the song bluegrass patriarch Bill Monroe chose for his 1939 Grand Ole Opry debut. The Carters remain the first family of country music, a genre impossible to imagine without Maybelle Carter's thumb-brush lead guitar. "Mother Maybelle, her contributions to country music are legendary," says Vince Gill, calling her "the first featured lead guitar player in country music. It wasn't a man, it was Maybelle."
It's no wonder, then, that those Bristol sessions are called "The Big Bang of Country Music." Today, that Bang heard 'round the world has been reloaded for a new generation in a double CD (Orthophonic Joy) that pays tribute to those 1927 recordings, a related concert package that has been playing festivals all over the country, and an upcoming documentary film on the making of the album. Of course, the music made at the Bristol sessions never really went away, and almost all modern bluegrass, folk, and country musicians play those songs. But with Orthophonic Joy, the Bristol sessions get a fresh look for a new generation that may be unaware of what happened there in 1927.
"It's wonderful history and it's a wonderful story," says producer/musician/songwriter Carl Jackson, who helmed the all-star project. Along with his many country and bluegrass productions, Jackson's passion for blending history and music includes high-profile "event" albums like his Grammy-winning Louvin Brothers tribute, Livin' Lovin' Losin': Songs of the Louvin Brothers and his homage to America's premier author, Mark Twain: Words & Music. The latter, combining historic narrative with songs, provided the model for Orthophonic Joy.
Jackson's elegantly traditional production work, polishing the rougher edges of bluegrass and old-time music without sacrificing down-home soul, brings the Bristol sessions into the 21stcentury. A benefit for Bristol's non-profit Birthplace of Country Music organization, the album features 18 songs from those 1927 sessions as recreated by top country, bluegrass, and Americana artists, including Gill, Dolly Parton, Brad Paisley,  Marty Stuart, Keb' Mo', Sheryl Crow, Jesse McReynolds, Steve Martin with The Steep Canyon Rangers, and Doyle Lawson & Quicksilver. The house band boasts some of the absolute best of today's bluegrass session aces, including Adam Steffey on mandolin, Rob Ickes on resonator guitar, fiddlers Aubrey Haynie and Andy Leftwich, T-Bone Burnett's first-call bassist Dennis Crouch, and Jackson on banjo and guitar. The narrative is spoken by WSM's Opry announcer and music historian Eddie Stubbs, with a script by Dr. Cindy Lovell, who also scripted Jackson's Twain project.
Jackson and executive producer (and Bristol native) Rusty Morrell began work on Orthophonic Joy in early 2014, seeking support from The Birthplace of Country Music organization, which runs the Birthplace of Country Music Museum and the annual Bristol Rhythm & Roots Festival. "As soon as they came to us with the idea, we knew that was something we would love to get involved with," says Leah Ross, Executive Director of the Birthplace of Country Music. "From there, we talked with the Tennessee Department of Tourism Development and the Virginia Tourism Corporation, and they just immediately saw the potential in highlighting the music from Virginia and Tennessee."
That sort of interstate cooperation is rare, according to Virginia Tourism Corporation Vice President Chris Canfield. "The power of music brings people together," he said, "and this musical project brought two competing states together, and that's pretty amazing when you think about it." According to music historian and Ralph Peer biographer Barry Mazor (Ralph Peer and the Making of Popular Roots Music, Chicago Review Press), such promotion reflects the spirit of the original project. Although country music existed before Peer came to Bristol, Mazor says, those 1927 sessions marked the birth of the modern country music industry, forever changing how it's marketed and sold. As Mazor put it, Bristol's Big Bang "was that very moment that country music was taken off the porch into pop music. The significance of Bristol was modernization and the establishment of a market. This is the country music that stuck."
In pre-production for Orthophonic Joy, Jackson combed through the 76 songs on the Bristol sessions, culling favorites, rearranging them, and matching them with singers. A former pre-teen banjo prodigy who went on to national fame with Glen Campbell in the 1970s, Jackson seems to know everybody in bluegrass, country, and beyond, allowing him to work with the most appropriate musicians.
"When Dolly Parton agreed to do the record, I immediately thought I wanted 'The Storms Are on the Ocean,'" says Jackson, who produced Parton's most recent album, 2014's Blue Smoke. "When we met, she loved it, but she said, 'Are there any other songs you want to play me?' I said, 'Sure, I have a few others in mind.' When I played her 'When They Ring Them Golden Bells,' she said, 'That's it. I've sung that song my whole life, sung it since I was a little girl.'"
Family connections were strong on the original Bristol sessions, and there's a multi-generational thread running through Orthophonic Joy as well. At 89, Jesse McReynolds is the oldest musician on the project, but the bluegrass legend remains one of traditional music's most innovative players. Partnered with his late brother Jim, Jesse created a completely unique style of cross-picked mandolin, and after Jim's death Jesse went on to record solo projects like 2010's Songs of The Grateful Dead. 
McReynolds was able to reach all the way back to the original 1927 sessions for Orthophonic Joy. His uncle, banjo picker William McReynolds, and his grandfather, fiddler Charlie McReynolds, recorded at the Bristol sessions as part of the Bull Mountain Moonshiners. For his version of the Moonshiners' "Johnny Goodwin/The Girl I Left Behind," McReynolds plays the same fiddle his grandfather played for Peer in 1927.  
"The Virginian" has a deep emotional connection for Jackson because it features Ashley and Shannon Campbell, daughter and son of his old friend and employer Glen Campbell, now in the final stages of Alzheimer's.  "Ashley's my goddaughter and they're both such great, talented kids," Jackson said. "I wanted them to be part of the record."
While he honors vintage music and prefers pre-World War II Gibson banjos and Martin guitars, Jackson isn't a slave to previous recording techniques, and that's something he feels he has in common with Peer. "In 1927 they were using the best technology they had, the cutting edge," says Jackson. "Today, we simply do that. I don't do any major tricks like recording to tape and then transferring to digital files." Instead, to attain the richest, warmest sound, he depends on a priceless set of monitors—his ears. After a lifetime of playing, recording, and producing bluegrass and acoustic country music, Jackson knows exactly what it should sound like and works with people who share his highly demanding aesthetic. "I record straight into Pro Tools in a very, very good studio with a very, very good engineer," he said, "with very, very good mikes, using the best technology we have, but still relying on players that understand the original music, understand what it would have sounded like if they'd had the same technology back in 1927."
And what it sounds like is state-of-the art, soulful American roots music.