Cambridge Audio Edge NQ Preamplifier with Network Player and W Power Amplifier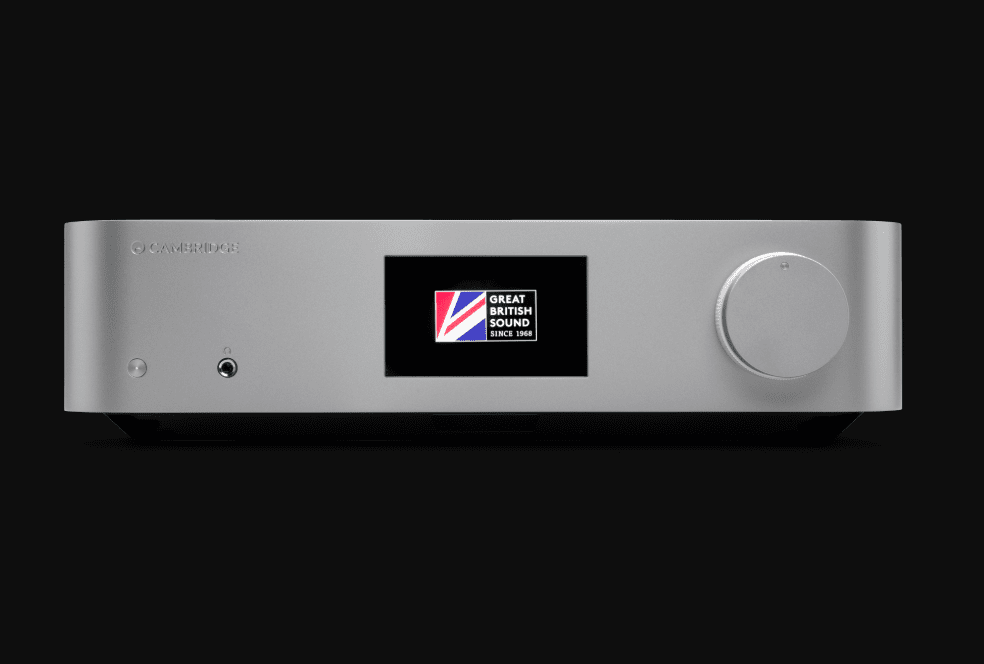 I just took out my iPhone, turned on my audio system with it, then called up an "Official" 2007 video of Marc Knopfler performing Brothers in Arms in Berlin on YouTube. I hit the AirPlay icon, selected the Cambridge Edge NQ network player, and proceeded to enjoy the stunningly good-quality video (with over 8.3 million views) on the phone while the music poured out of my audio system. Knopfler was right in front of me, and I paused for a moment to write this introduction. Something rattled me, and I awoke from the experience in an attempt to take it all in. I hadn't touched anything but my phone for any function, and yet this was an evaluation of a set of electronics for The Absolute Sound. Not CNET, or Tech Radar, or some holiday appliance catalog. Could this be a brighter, more connected audio future? I had never evaluated any component or system in this way. And the moment clarified the central question for this review: Can you have it all? Can your audio experience be made simpler, all-inclusive, and qualitatively better? Can you connect all the connected aspects of your audio experience and not compromise the fundamental attributes that still bring you to read the pages of this magazine?
Can you have it all?
The Big 50 (Not Halfway There)
In a desperate, failed psychological ploy, I attempted to redefine the occasion of my 50th birthday as merely "halfway there." I have come to realize that what began as a cute phrase of avoidance was instead an explicit and depressing acknowledgement of the end…halfway there. I should have just taken the opportunity to celebrate the 50 years that were.
Fortunately for all of us in the audio world, Britain's Cambridge Audio didn't waste the positive potential for celebration of its first 50 years. In anticipation of the event, it challenged nine engineers over three years to create a product series that would exemplify the company's original vision of Great British Sound (more on that later). Unlike its other, more value-oriented ranges, this would be a "without limits" effort—a showcase of all that the company had learned and stood for. Go for it, boys and girls. "What would you do if anything were possible?" 
The final result was three products in a range named for an engineer responsible for Cambridge Audio's first innovative creation, the p40 integrated amplifier. His name: Professor Gordon Edge. The new series: Edge. We have then three Edge products: an Edge A integrated amplifier ($6k); an Edge NQ preamplifier with integrated network player ($5k); and an Edge W power amplifier ($4k). The subjects of this review are the Edge NQ and the Edge W pre/power combination.
The Forest 
There's a lot going on here, and a lot that can be said. So much so that I fear losing the forest through the trees. Let's be clear at the outset then—the Cambridge Audio Edge NQ preamplifier and W power amplifier are more-than-worthy results of Cambridge's vision for no-limit components. We'll get to the raw performance soon enough, but I can't state strongly enough that the Edge products have such a completeness and polish to them that you can literally feel the pride that went into their design and execution. From the marketing, to the aesthetic details, to the packaging, to the ease of use and integration, and yes, to the performance—this level of execution suggests a rare degree of talents deployed in a singular direction. So before I go all Absolute Sound on you, just promise you won't let me bury that lead. Some things are worthy of your attention. These most certainly are.
The Trees
I'd lose more than a few of you if I called the Edge NQ a digital network preamplifier. There'd be all kinds of implied assumptions that the NQ is a digital-only plaything. Instead, let's view it for what it is: an analog preamp with an onboard DAC and a network streaming module/software of Cambridge's own (already heralded) development. Cambridge claims a unique circuit board where capacitors have been replaced with a DC-coupled topology. The solid-state volume is "digital" only in the control of its position. Signals entering the NQ in the analog domain stay there. 
It is fair to say, however, that Cambridge Audio positions the NQ to function first and foremost as a network preamplifier. Used in such a fashion, the NQ doubles as a source, or renderer in the now common parlance of our times. This functionality is all based around a module utilizing Cambridge's own Streammagic streaming software. Chromecast built-in. Airplay. UPnP/DLNA. Bluetooth aptX HD. Internet radio. Spotify Connect. Tidal. All through a chipset supporting 32-bit/384kHz PCM and DSD256 files. I'll get into more depth later, but if you have a network-attached music service or source, the Edge NQ will be there for you. As you'll read, all beautifully integrated.
Fourteen. That's how many components are in the 100Wpc Edge W power amplifier's signal path. Though a substantial 52 pounds in weight (primarily due to the opposing twin toroidal transformers said to cancel electromagnetic interference and allow for more consistent tonality and power delivery), this is really a study in less-is-more amplification. Instead of opting for less efficient Class A operation, Cambridge utilizes what it calls Class XA. A bias voltage is added to traditional Class AB to shift the crossover point outside the range of human hearing. I'll just take its word for it (no EE writing this review I'm afraid).
Ownership
As objects, I find the Edge pieces to be interesting, thoughtful, and attractive. These are characteristics (certainly at the price point) rarely found together. The shapes are minimalist/modern, yet still retain unique details as in the sculpted channel that runs along the top edge as a border to the top plate. The silver/gray finish is stunning and looks different depending on the light. The inputs and outputs on the back plate are labeled for right side up or inverted connecting (thank you!). There's even a slim vertical insert on each side of the NQ's chassis with the mathematical geographic coordinates for Cambridge Audio's headquarters in London! Unnecessarily cool.
The dual-concentric volume and source-selector knob is a pleasure to use (the "problem" being that you almost never will). Its 31 milled parts were designed and assembled in the UK. I encourage you to visit the company's website to check out the exploding diagram and short video of this piece. Again, unnecessarily cool.
Getting up and running was Apple-easy. When I saw the NQ feature list and the thickish manual, I had flash backs to setting up the Theta Casablanca surround processor many years ago (better mark a day or two off the calendar for that one). Instead, there were approximately three pages of actual, simple, how-to English instructions (repeated in eight other languages). I downloaded the Edge Remote app on my iPhone and iPad, stuck an Ethernet cable into the NQ, connected the remote trigger cable (included) between the W and NQ, and off I went. Never to look back.
I won't list every single use case, but suffice it to say that the Edge NQ and W have operated nearly flawlessly for the many months of my extended evaluation. There have been exactly two times when the NQ wasn't discoverable on the network. One was in the first week of use, and a quick reboot brought it back online. The other was due to a waiting software upgrade. Both took seconds to "fix," and that's been it over one-half year of use! Remarkably and unusually robust.
The only piece of software that was subpar was the media server software. This lets you navigate files on a NAS or connected USB drive. The software for this purpose is DOS operating system simple/old. Fine for a small USB stick with a few files, but certainly not good enough for a NAS like mine with many terabytes of music. I use JRiver for that on a separate computer anyway, which I can connect to the NQ DLNA as a renderer, or via the computer's direct (USB or SPDIF) digital output to the NQ's DAC section. Given the level of development for the rest of the NQ platform, my conclusion is that Cambridge simply doesn't feel the media server is a common use. The NQ is meant as the connected partner to media platforms (streaming or otherwise) already fully developed. It's not intended as the piece that organizes your music.
When using an app like YouTube or Qobuz, you simply select (in the app itself) the Edge NQ as the Chromecast or AirPlay streaming device. Super-easy. Super-fast. The volume control is in the app on your phone's or iPad's volume buttons. You never touch the Cambridge pieces. If sound wasn't pouring from the speakers, you might forget they were there. It's almost too easy. Good audio is supposed to be hard after all. We suffer for our art. Not here.
The Edge Remote app is also simple to navigate and modify. From changing inputs to downloading software updates, it's all very intuitive. In a situation where you have to change screens to change the volume, there can be a slight delay, but that's an issue with using an iPad or phone, not with the Edge. Like everything else about these Cambridge Audio products, the remote app just does its job. Functional excellence.
YouTube? But Why?
Let's be clear. YouTube sourced videos are not (currently at least) reference-level audio sources. I haven't lost my way (at least when it comes to audio).
But that's not the point. When you have a product which can so seamlessly integrate virtually every audio source and application you can own and access, you now have practically infinite, varied pathways into the artists and music that you love. So when I finished listening to the Dave Holland Quintet perform "Metamorphos" off a USB stick connected directly to the Edge NQ, I could then quickly call up a performance by the same group in 2002 at the Newport Jazz Festival, only this time with a video on YouTube. Same iPad on my lap. Same electronics. A value-added experience. Addictive. And if it wasn't a few clicks away, I'd probably never do it. Frankly, it never stopped feeling like I was somehow cheating. 
I can tell you, once you sample this alternate world of sources, you will be lost for some time. Amazing YouTube sourced performance of "When My Train Pulls In" by Gary Clark Jr. An interview with and performances by Jim Hall and Pat Metheny on Legends of Jazz—The Great Guitars. The Chicago Symphony Orchestra performing Beethoven's Ninth. Would I listen to just the audio portion of any of it? Haven't yet. But add in the video and you've got me. It deepens my experience and opens performances frequently not available in an audio-only format.
Finally, The Sound
Cambridge Audio makes a big—no, huge—deal about representing what it calls Great British Sound. The 18th century Royal Navy would struggle to compete with the number of Union Jacks Cambridge has thrown at the marketing materials for this product. Without turning this into a think piece on national self-identity, let's just be thankful that it thought through the concept enough to properly define just what Great British Sound means. And essentially, Cambridge claims neutral, unadulterated "audio in its purest form" as British. It leaves "big, chunky bass" to the Americans (you know you love it), and the folks in the Far East are given a preference for a boosted midrange. Kind of them…
As a Canadian (part of the Commonwealth, after all) and an Anglican (Church of England, to boot), do I think of "audio in its truest form" when I think of British audio? A polite "no" (followed by a "sorry"—again, I'm Canadian) would be my answer. But none of that matters here. What matters is that Cambridge Audio has delivered on a sound they've defined. And that really surprised me. I see all those Union Jacks and I expect Harbeth, Linn (Scotland is British, too), Naim, and Tannoy. I'm expecting quirks and character. Jaguar and an unruly Parliament. What I got was a baby Spectral (which can't be American since it doesn't do "big, chunky bass"). Speed and air. The ability to hear through to the recorded space. A lack of an overbearing, heavy-handed character.
If you're searching for clues to the Edge's sound then, I'm going to point you back to that one detail of the W power amplifier circuit that might otherwise go unnoticed: 14 components. Less is more. Add lightness. Lotus, not Rolls Royce. Engineered, not voiced. "Nothing added. Nothing taken away."
Here's the issue with the noble, above-stated sonic goal. The thing is, the closer one gets to achieving transparency to the source…well…the better the source needs to be. The same goes for system matching. Everything starts to matter more. The Edge NQ and W pairing will pay you off, but you must pay attention to the details to cash in.
I didn't hear this pay-off until I decided to play a file directly from a USB stick. I had initially used the NQ as a network, streaming preamplifier with Tidal, Qobuz, YouTube videos as sources. Had I stuck with these streaming (Casted or through AirPlay) sources, I would have written a different review. But the USB stick experiment had my eyebrows involuntarily lifted. It's not until that moment that I got to hear truly special components. 
Hear the Light
Illuminated noise. It's the difference between a big-box store with overhead fluorescent lights set on blast, and a nice art gallery with directional, color-corrected lighting meant to show the paintings and sculptures in their, well, best light. In the former case, it's like the world has been adjusted to your TV's Vivid setting. Hyperreal and loud. Tense. In the latter case. It's as though the art objects simply appear as themselves. The outside world is quiet. Relaxed. Plenty of time and attention to give to the objects themselves. Subtlety and contrast, not washed-out noise and confusion.
The USB stick in the back of the Edge NQ set me on a path of much experimentation. For illustrative purposes of this review, let's take the example of one of my favorite classical recordings, Ariel Ramirez's Misa Criolla, performed by José Carreras and occasionally Mr. Ramirez himself on piano and harpsichord (Philips 420955, 1988). I could listen to these digital "files" through the Edge NQ in many ways: 
1) Through the NQ's network/streaming card as a renderer. I used Qobuz "Casted" (Chromecast) or AirPlay. I could also use a Baetis Reference media server as a DLNA/UPnP control point via JRiver media software for the files on my NAS. 
2) Through the NQ's various digital inputs on its DAC card. For the experiment, I used a Baetis Audio Reference media server. I could have it play files via JRiver software from my Synology NAS through its SPDIF or USB outputs, or I could have the Baetis act as the streamer for Qobuz-based music through the same digital outputs. Finally, I could use a USB stick directly in. Here, in all cases, the Edge NQ acts only as a DAC and then an analog preamplifier. No network/streaming card. 
3) Through one of the NQ's analog inputs. In these cases I used the Baetis again into a little Chord Qute HD DAC that I like very much. Again, I could source the music either via my NAS, or by way of Qobuz streaming. Now, the Edge was only being used as an analog preamplifier.
Before I continue, let me say that I have not modified my network infrastructure "for audio" in any way. All unremarkable off-the-shelf routers and switches without special cables and/or power supplies or isolation. I have taken the approach (because I know it works) of paying more attention to the media server/computer itself as the place to handle and deliver digital files. In the future, I may experiment with noise-isolation techniques that address the network itself. As for now, I'm "stock" in that regard.
I provide you that caveat, as in my system there was a clear and important improvement each occasion I bypassed the Edge NQ's network/streaming card and went directly to its own excellent DA converter, or through its quite transparent analog preamplifier. In other words, options 2 and 3 (in all of their variations) always beat out anything in option 1. To shed a bit more light on it, options in category 1 were fluorescent. Casted from Qobuz, both Carreras' wonderful voice and Ramirez's piano sounded as though they had been blown up in size, as if a little halo of irritating noise accompanied each note. This reduced the ability to pick up on spatial contextual cues. The performers were cut-outs when streamed and casted, rather than holding my attention as real performers in a live event. Playing files from my NAS to the Baetis/JRiver and then to either the USB or SPDIF digital inputs of the NQ was an immediate leap into the big leagues, compelling my senses (which is what a good system must do).
Friends with Benefits
The problem (nice problem to have) with the Edge pieces is that the DAC/preamplifier/power amplifier are so damn transparent. Far beyond what I've heard at their price point, even if we limit the discussion to pure audio performance and eliminate other things that the combo aces, like feature set, ease of use, and build aesthetics/quality. I see two possibilities when it comes to using the NQ as a network streamer. Either its streaming card isn't at the "purest form" level of the rest of its signal path, or I/you would need to address noise inherent in our network infrastructure. In other words, that I/you need to build around streaming music as a primary (digital) reference source. That would be a whole n'other article. 
For the record, none of the above observations meant that I didn't "enjoy" streaming music through the Edge or watching YouTube performances. In fact, the ability to do so with such ease and reliability was a major source of satisfaction in discovering new music or calling up something the kids requested at a moment's notice. And so if I can call the very high performance bar set by the Edge NQ DAC/preamplifier, and W power amplifier "friends," then I would have to add all the wonderful network connectivity of the Edge as "benefits." This is the closest any equipment has come to be that perfect combination of near reference-level digital/analog with an expertly integrated and completely modern feature set. Friends with benefits.
Pairings
The price point of the Edge components is interesting. Many will view them from the bottom up—as expensive components for a company known for high value, sub-$1k products. Others will view them from the top down—as very good, but they're looking for something more expensive (they say "better") for their fancy rig. From my experience with the NQ and W, the Edges' sound quality and sound type suggest that these components can be the centerpieces of a very ambitious, carefully chosen system.
I used both my Magico V2's and at the tail-end few days a pair of Stenheim Alumine 3's (yes, both are in a somewhat higher price range). The Edge W had no issues driving either, with the Magico being a far more difficult load than the Stenheims. The W sounded like a very competent 100 watts. Bela Fleck and the Flecktones' Flight of the Cosmic Hippo had plenty of gut-churning weight. It's a hammer from your toolbox for a regular-sized nail, not a sledgehammer driving a pin. I'll say it again, it sounds like a minimal circuit that gets out of the signal's way. It's not polite. It's not imposing. It's quite composed and transparent. If you decide to go in the direction of Magico and the like, just keep in mind that sources will have nowhere to hide. This can be a great thing if you attend to the details of system building. Otherwise, I can imagine something in the direction of the Dynaudio Contour 30 I reviewed being a good pairing. A bit more forgiveness/sweetness never hurt anyone, did it?
Can I Have it All?
The Edge NQ and W can connect all the connected aspects of your music-reproduction life. They do so reliably and easily. The overall achievement as a product line clearly built by proud experts in their fields deserves respect and acknowledgement. The fact that the delivered audio performance aligns with Cambridge's stated sonic goals is further proof of its expertise.
I haven't yet experienced a streaming digital source (anywhere/anytime) that can pass that little threshold of taking music from nice to compelling. I'm certainly not suggesting that it can't be done, but I'm stating that I haven't heard it. In this regard, the Cambridge Audio Edge NQ didn't change my mind, even though I enjoyed the hell out of using these added benefits. But otherwise, as a built-in DAC with a wonderful analog preamplifier, it's something of titanic value. Absolutely no need to purchase a separate DAC. 
Early in the review period, I had the opinion that the Edge A integrated amplifier at $6k must be the best value in that range, it also having a built-in DAC. But the more experience I had with the NQ/W pairing, the more I had trouble imagining giving up all that it does. At $9k for the pair, it's unique sonically anywhere near its price range. Used appropriately, it has an open quality that is rather rare. The Edge W power amplifier is an unqualified gift offering at $4k.
Beautiful, substantial, and intelligent separates that should be sought out for audition. Bring your phone (crazy, I know) and watch a music video or two while you're at it. Get hooked on the idea of having it all. Friends with benefits. There's no turning back.
Specs & Pricing
Edge NQ Preamplifier
Analog inputs: 2x unbalanced RCA, 1x balanced XLR
Digital inputs: 2x TosLink, 1 coax SPDIF, 1 HDMI ARC, 1 USB Audio, 1 USB Drive, Ethernet, RS-232
Outputs: Balanced XLR, unbalanced RCA
Connectivity: Chromecast built-in; Spotify Connect; Tidal; AirPlay; Bluetooth aptX HD; Internet Radio; UPnP playback; Wi-Fi
Formats supported: USB audio (Class 2.0 supporting up to 32-bit 384kHz PCM, or up to DSD256); TosLink (16/24-bit 32-96kHz); coax SPDIF (16/24-bit 32-192kHz); Bluetooth (4.1 Smart/BLE enabled. A2DP/AVRCP supporting SBC, AAC, aptX, aptX HD); USB drive input (2.0 limited to 1A, FAT32/NTFS/HFS/HFS+)
Dimensions: 18.1″ x 4.7″ x 15.9″
Weight: 22.4 lbs.
Price: $5000
Edge W Power Amplifier
Output power: 100W RMS into 8 ohms; 200W into 4 ohms
Inputs: Balanced XLR, unbalanced RCA
Dimensions: 18.1″ x 5.9″ x 15.9″
Weight: 51.9 lbs.
Price: $4000
Cambridge Audio USA
1913 N. Milwaukee Ave.
Chicago, IL 60647
United States of America
(877) 357-8204
By

Allan Moulton

Let's just start with a confession of sorts. I enjoyed listening to the combined talents of Roger Whittaker, Nana Mouskouri, The Irish Rovers, Zamfir, and Chuck Mangione with my family as a youth (Allan winces).

More articles from this editor