It's no secret that AXPONA has been experiencing a growth spurt. Last year marked a move to a new venue, the Renaissance Schaumberg Convention Center Hotel, in Schaumberg, IL, outside Chicago. In scope, attendance, and number of exhibits, it is giving RMAF in Denver a run for the money (though that show will also be held in a new, much larger venue this year, the Gaylord Rockies Resort and Convention Center).
Although attendance was strong and the vibe positive, AXPONA is one helluva huge show. Attempting to reach every exhibit across the nine hotel floors, in addition to the larger rooms on the first and second levels plus the several exhibition spaces and "marketplace" Expo Hall areas in the adjacent convention center building, would be a fool's errand (even for the most diehard of audiophiles). Hell, I didn't even take my usual 15–30 minutes to record shop, and I stayed on for a couple hours listening to demos after the show ended on Sunday. The best news is, no matter your budget, AXPONA's a veritable audio paradise!
I did my best to cover as much ground as possible, and offer apologies in advance to those folks I missed seeing and for any errors or omissions. I know there were a handful of surely outstanding demos I did not get to experience. But enough apologies—on with the exciting debuts and emerging new trends. Here are Electronics highlights.
Premieres
Among the more unexpected debuts came from Voxativ in the form of two new Absolut System two-piece "packages" based around the sleek, single-chassis Absolut Box—an all-in-one Class AB integrated amp (100Wpc or 35Wpc) with custom DAC and DSP (optimized for each speaker), WiFi/Bluetooth streaming, analog and optical inputs, and a preamp/sub RCA output—and a pair of either the 94dB-efficient Absolut Zeth tower speakers ($12,900/pr. with the100Wpc Box) or the 95dB-efficient Absolut Hagen stand-mounted monitors ($7900/pr. with the 35Wpc Box). Given the growing trend toward single-box solutions, why was this unexpected? Well, the Berlin-based company is best known for its highly efficient, horn-loaded, single-driver speakers driven by gorgeous SET tube amps as opposed to this type of more plug-and-play setup. Then again, Voxativ's founder Holger Adler is an innovative designer with modern sense and sensibilities (see Jonathan Valin's recent Voxativ review in Issue 293), so perhaps this wasn't altogether surprising. Via Qobuz streamed wirelessly from a smartphone(!), vocals from French artist Zaz and The National's Matt Berninger were smooth and natural-sounding, and bass extended deeper and retained greater definition than you'd expect from a five-inch driver, particularly on "How Long" from Sly & Robbie with Nils Petter. Cabling was from Synergistic Research, including Blue UEF 10 AWG power cables and a customized Atmosphere X Euphoria speaker cables.
Another company based in Germany, T+A elektroakustik—that is, Theory and Application, pronounced "T plus A" (in case you had other ideas)—presented a duo of debuts, the PDT 3100 HV Reference CD/SACD player (also covered in Andre Jennings' Digital report) and the SDV 3100 HV Reference preamplifier/DAC and streamer ($37,500) with analog volume control, a plethora of digital inputs, an integral hi-res streaming client for direct access to online music services, plus local network and FM radio, aptX Bluetooth streaming, and Roon Ready certification on the way. AXPONA also saw the U.S. debut of the T+A M 40 HV 40th Anniversary monoblock power amplifiers that were unveiled in Munich last year. This hybrid tube input/solid-state output design uses MOSFET drivers and bipolar output devices. Though it was originally intended as a limited-edition offering, popular demand has led to the amplifier's production being continued. It's compelling inside and out, with tubes handling its voltage amplification and advanced high-current technologies in its output stage—and a distinctive aesthetic that could have been inspired by Metropolis.
Axiss Audio introduced Air Tight's new 70W ATM-2Plus stereo power amplifier that represents major updates to the original ATM-2 model first launched in 1988. All circuitry has been redesigned and a new approach to negative feedback has been implemented to pair better with more modern speakers. The updated push-pull design is still based on KT-88 tubes but now incorporates 6CG7 tubes instead of 12AU7s for wider dynamic range and lower distortion, and the ATM-2Plus uses new Tamura 100W output transformers said to extend power, particularly for lower-octave response. The Japanese company has retained its classic tube amp styling traditions, and the amps are still assembled by hand, their circuit boards still point-to-point wired by skilled craftspeople in the Air Tight factory outside Osaka. In the main setup, Air Tight's top-line ATM-3211 monoblocks, ATE-3011 phonostage with five EQ curve options, and the ATC-5 preamp drove the excellent Piega Coax 711 speakers with the Swiss company's unique handcrafted point-source tweeter/midrange reproducing silky-smooth highs, even on Karen O's idiosyncratic soprano vocals, which can sound harsh or edgy on lesser systems on cuts from my Lux Prima LP. A gorgeous Reed Muse 1C turntable sporting an unusual and elegant linear-tracking tonearm design served as one of the two analog sources. A second system in a smaller room featured more new electronics ahead of Piega MLS3 speakers: the Swiss-made Soulution 311 power amplifier, and the latest integrated from Accuphase, the 180Wpc Class AB E480. Each is priced at $12k, and each marks the least costly entry for its respective brand.
Looking to the more affordable end of the high-end audio spectrum, PrimaLuna premiered the latest, top-of-the-line separates from its Evo series of tube electronics—the PrimaLuna Evo 400 linestage tube preamplifier (pictured below) and the Evo 400 tube power amplifier ($4699)—in an excellent-sounding demo driving the new GoldenEar Triton One.R speakers ($5998/pr.). Weighing in at 52.8 pounds, the hefty Evo 400 preamp ($4499) is a dual-mono design and offers balanced connectivity with dual-potted transformers and point-to-point Swiss-made wiring. There's a home-theater bypass, and an mm phonostage option is available. The Evo 400 amp delivers 70Wpc stereo, 1400 watts mono, can be run either in triode or ultralinear mode (conveniently switchable via remote control), and features a proprietary, adaptive auto-bias system and an indicator for bad tubes—it uses 6x 12AU7s and 8x EL34s. Both Evos are available with either black or silver faceplates and are now shipping. A McIntosh MCT500 CD/SACD transport rounded out this demo with cabling from AudioQuest. Red Book CD playback of tracks from the likes of Dean Martin ("If You Were the Only Girl in the World") and The Beach Boys ("In My Room") were expansive and smooth with plenty of dynamic energy that stayed in decidedly non-aggressive territory in a "non-speakery" way—a good thing. Tonal realism stood out on vocals, and the wide distance between the speakers yielded wide-open staging. In short, this system offered both big sound and big-time bang for the buck.
Bel Canto Design premiered components from its new e1X series: the e1X DAC/Control Preamp ($6500), e1X Stereo Amplifier ($6000), which are due to be shipping by the time this goes to press, and the e1X Integrated (est. $8500), which is expected in market in Q3. Conservatively rated at 200W into 8 ohms, the Stereo Amp features custom adjustable gain stages and a discrete, single-stage, high-current amplifier input with 1200-watt power supply. The forthcoming Integrated contains the same DAC/Control Preamplifier core in addition to a software-controlled mm/mc analog phonostage and a range of digital and line-level inputs, sub output (plus bass EQ and sub filter management via the Seek app), and Ethernet or USB connectivity for streaming; the Integrated is also Roon Ready, and its Seek control app allows streaming via Tidal/MQA, Qobuz, and/or your personal digital music library. I was treated to a brief A-to-B MQA comparison in this all-digital demo—here, I listened to a Tidal stream of "Capsized" from Andrew Bird (among some other music). The track sounded quite good in the regular recording (24/96, I think) but MQA certainly cleaned up the images and seemingly reduced some tonal darkness. Sonic generalizations I'd heard before in this kind of comparo still rang true: a sense of a veil being lifted, along with an expanded soundfield, perceived increases in resolution, and a lowered noise floor. Speakers were the Danish hand-made Audiovector SR3 Avantgarde Arreté ($9999) and cabling was from AudioQuest.
Kubotek Corporation of Japan introduced a newly updated Haniwa system with HSP01 stand-mounted speakers, HDSA01 active phase-control amplifier, HEQA03 equalizing phono preamp, The Player source, and HCTR CO cartridge. Prices start at $12,500 but combination package pricing deals are offered. In addition to the natural effortlessness, coherence, and remarkable dispersion capabilities of these unique-looking single-driver speakers, part of what made this demo memorable was the display and playback of a number of LPs, most of which had been digitized, from the late Harry Pearson's collection. Call it classic audio with modern engineering for accuracy.
I also came across a handful of products making their U.S. debuts at AXPONA. For one, AVM showed its Ovation 8.3 integrated ($18.9k) that was introduced in Munich last year. The 330Wpc hybrid design contains a tube input section (with AVM's own tubes) and a MOSFET power output stage, plus advanced features such as signal-sensitive inputs, 4.2 standard Bluetooth connectivity, and more. An all-solid-state 6.3 version is also available for $14.9k. And that transparent top plate isn't just for show; it's actually an option.
Canada's Verity Audio presented the U.S. debut of its AMP-45 stereo amplifier ahead of its Lakme loudspeakers that boast custom decorative front-panel finish options in wood or artisan fabrics, including some graphic prints, as seen in the photo above.
Another German maker of fine electronics, Accustic Arts, intro'd to this market the Tube Hybrid preamp ($16,400) and Mono II power amplifiers ($24,995/pr.) in front of Magico S3 Mk 2 speakers ($28k/pr.). Mr. van den Hul was on-hand as the analog front-end included his 3T cabling, Grail SE phono preamp, and Colibri Master Signature phono cartridge (fitted to a Reed 2P tonearm on a refurbished vintage Garrard 301 turntable).
A few rooms featured the singular high-end electronics from CH Precision of Switzerland; unfortunately, I wasn't able to visit all of them but I'm sad to have missed the rare occasion to see the gargantuan Göbel Divin Noblesse presented by Bending Wave USA. No doubt this was a winning combination. However, on the 16th floor I did catch a pleasant pairing with a suite of CH Precision electronics and Rockport speakers: the CH Precision A1.5 monoblocks—a U.S. show debut—L1 preamp, P1 phonostage, X1 external power supply with two outputs, and C1 DAC with USB streaming powered Rockport Cygnus speakers sourced (on LP) by the German-made DeBaer Saphir turntable and tonearm seen in Munich and new to this market, and cabled by Argento. A listen to "Bloodless" from Andrew Bird's latest release revealed spacious and open yet properly scaled soundstaging within which each player seemed precisely placed, with the drumkit's percussive attacks sharp and prominent. An ultra-quiet background further enhanced the sonic illusion of the musicians playing on these live-recorded tracks. A great-sounding system.
More Great Sound
The huge KEF/Hegel room showcased an exciting duo of systems, the bigger included the larger-than-life KEF Muon Mk II floorstanders ($225k) in all their shining aluminum-surfaced glory driven by a pair of Hegel H30 monoblocks ($17k each) connected to Hegel's HD30 DAC streaming Tidal through Roon. A listen to EL VY's "Paul Is Alive" proved lively and inviting, highly resolved, and richly musical with a quiet background. This track has some big-time bass that stayed quite tight and well-integrated here. The amps seemed to offer sufficient headroom to deliver speed with ease, and the Muons are said to be linear to 20Hz and feature myriad adjustment capabilities to work within various rooms.
Another super-sized system, one with many more electronics in play, was in the Euphoria room (indeed!) with Von Schweikert Ultra 11 floorstanders ($295k) powered by a super stack of VAC Statement tube electronics ($80k–$120k), sources from Esoteric and TechDAS, MasterBuilt cabling, and Critical Mass Systems' Maxxum racks. On my Sleep Well Beast LP, The National's "The System Only Dreams in Total Darkness" I heard piano/keyboards and tambourine in background I'd never noticed before. Tonal balance leaned towards the darker and heavier side but details stayed clean; the track's subterranean bass registered clearly and integrated well. Andrew Bird's "Bloodless" was equaling satisfying, with the transient attacks on snare, rim shots, and cymbals, and Bird's violin staccatos fast, realistic, and exciting. Again, tonal balance was warm and rich, yet quite detailed. The backup vocalists were better differentiated as individual voices than I'd heard before. This was perhaps the most involving presentation I'd heard of this track at the show. Big-time fun!
The inimitable Michael Børreson introduced the latest addition to his new namesake speaker lineup, the Børreson Acoustics 05 floorstander powered by Aavik Acoustics electronics with Ansuz Acoustics D-TC cabling, power box, and power distribution in the Next Level HiFi room. Via a Naim CD5XS CD transport, Lars Kristensen ran a dynamic digital demo full of heft, substance, and detail. Attacks hit hard and clean from a lower-than-low noise floor capturing "you're there" excitement. Flute was airy and clean, and the snap on hand percussion and strings was almost hyper-real on Jethro Tull's live "Mother Goose." Bass dove deeper than expected on a track of Jo Satriani's electric blues guitar licks (fitting for the Chicago show), but was not excessively controlled. Although some soundstaging cues seemed more accurate than others as far as image placement, I was wowed by the speakers' amazing expansion and disappearing capabilities within a holographic, incredibly immersive soundscape.
Before running out of space, I want to mention a few other sonically noteworthy demos: NAGRA electronics, HD DAC, and IV-S/QGB open-reel tape deck ahead of Kharma Elegance S7 loudspeakers connected by Denmark's Organic Reference cabling sounded excellent overall; PSB Imagine T3 speakers ($7500/pr.) paired with an NAD M10 N-Core 100W streaming amplifier ($2500) playing back tracks from Qobuz made for a pretty super-sounding and super-simple system; the newly introduced Stenheim Alumine 3 three-way loudspeakers driven by Einstein electronics—and turntable, tonearm, and cartridge (Ortofon OEM)—reproduced a soundstage of pleasingly scaled width and depth along with a nice, open naturalism, especially in the midrange, plus punchy attacks when source material called for it. In the Synergistic Research/Magico/United Home Audio room, during playback of The National's "Born to Beg" swirling synth effects and pulses enveloped me and Matt Berninger's vocals were reproduced convincingly enough to be spooky.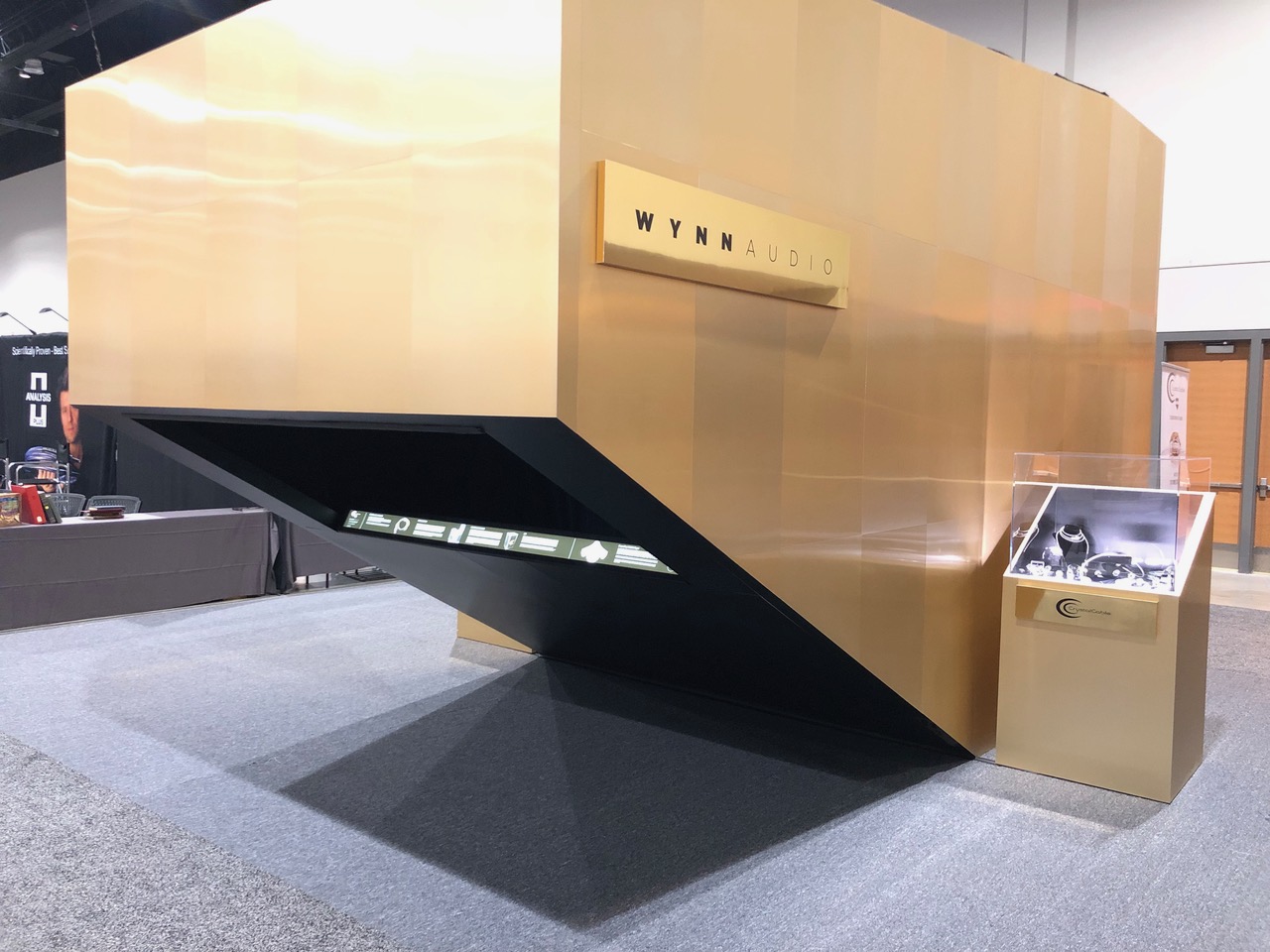 Wynn Audio, now the North American distributor for Crystal Cable and Vimberg (a spin-off brand from Tidal of Germany), demo'd Vimberg Tonda speakers ($38k) powered by Karan Acoustics electronics in a gigantic room (30′ by 60′). In spite of the size of the listening space, the sense of scale and the soundstaging on "Bloodless" from my Andrew Bird LP were among the best I'd heard at the show. Rhythms were solid, imaging was excellent, and tonal balances veered slightly warmer than neutral. An effortless musical quality prevailed, perhaps there's some Tidal DNA in those speaker cabinets? This was among my last stops on Sunday, one that was well worth it. Wynn Audio also presented a Goldfinger-worthy gilded structure in the Expo Hall; inside was housed a setup featuring Crystal Cable Arabesque Minissimo Diamond speakers, CCi integrated amp, and Crystal's new Future Dream cables series.
Julie Mullins' Best of Show
Disclaimer: Please take the selections with a grain of salt; as noted, I didn't see everything at this bigger-than-ever show.

Best Sound (cost no object)
I'm hesitant to name one here but some contenders would include the Avantgarde Acoustic Duo Mezzo XD/Esoteric setup, MBL 101 Es, and the flagship Von Schweikert Ultra 11/VAC system.

Best Sound (for the money)
A tie: The aforementioned GoldenEar/PrimaLuna/McIntosh system, and new Magnepan LRS petite planar-magnetic panels ($650/pr.) driven by the company's prototype Class AB 300 (as in wattage) amp connected to a Bryston BP-17 Cubed preamp and BCD-3 CD player.

Most Significant Product Introduction
The Voxativ Absolut Box and its respective systems. An impressive and surprising launch. Also, it would be hard to go wrong with the Magico M2 speakers.

Most Important Trends 
The ongoing release of ever more plug-n-play, single-box, and/or all-in-one systems—integrateds plus extras or home-theater/home-integration solutions and more. Smaller footprint gear and LPs also abounded.

Best Demos
Depends what you're into…fully immersive, in-the-room presence, or the visceral impact of sonic thrills over transparency? MBL 101 Es or Børreson 05/Aavik Acoustics or the Synergistic Research/Magico/United Home Audio room. The Joseph Audio/Rowland/Cardas Audio room also deserves a nod for fine sound and analog purity.
Tags: FEATURED