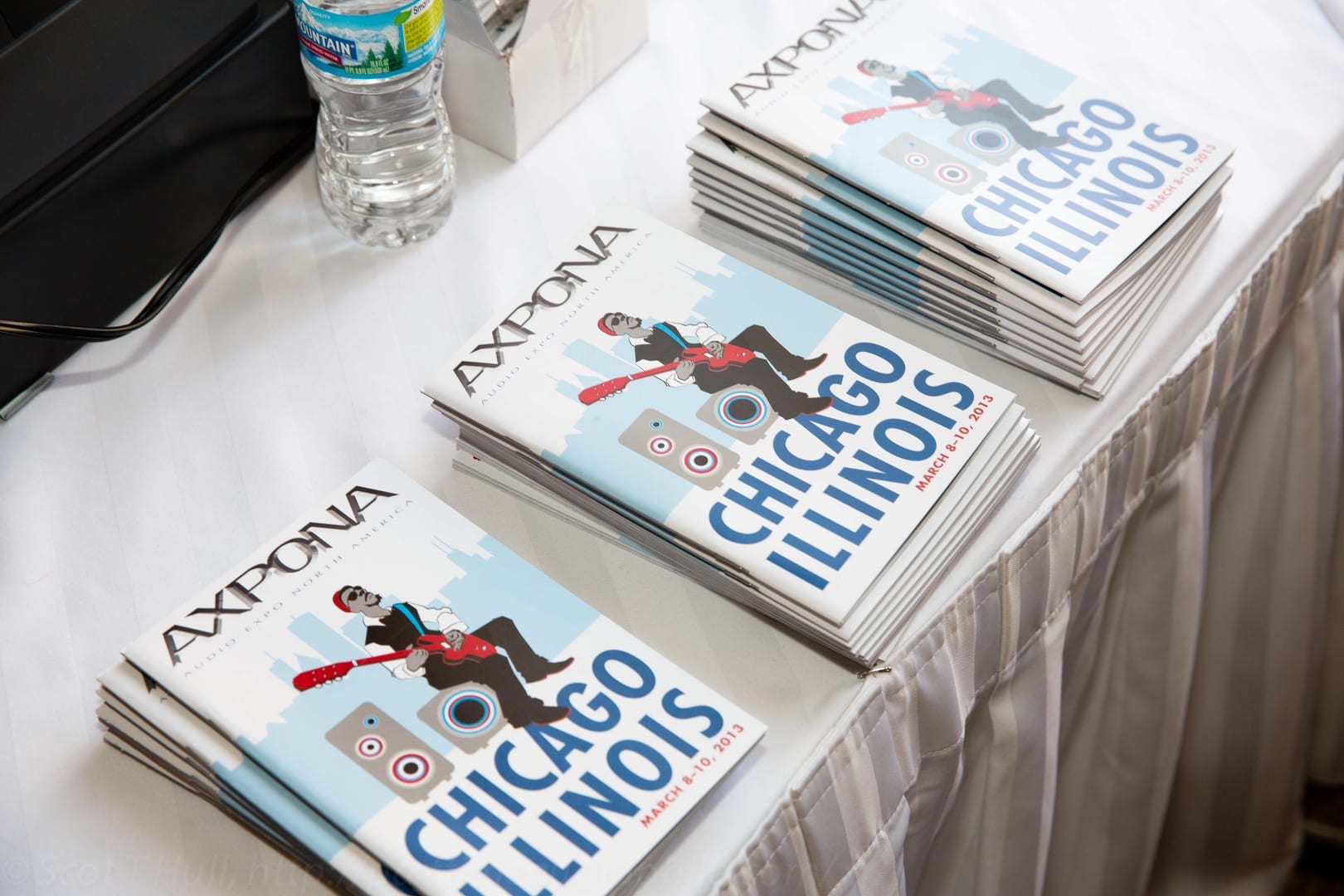 Chicago … in March. Really. Is it just me? Turns out, as my completely scientific survey of 5 randomly overheard conversations in a hotel elevator confirms, that there was quite a lot of head-scratching going on. Clearly, an opportunity has been missed. We could have gone to Austin, for example. Or Miami. Or New Orleans. Or Napa. Maybe even Hawaii. But Chicago? Not on the list. I mean, not even within five feet of a list, laying sprawled across a floor. Not in March! Now that I think of it, a lot of audio shows are mis-targeted. Newport Beach in June? Fine, but that could have been "the March show". Montreal? Definitely in September! Denver could be equally served by January or June. New York? Definitely May. Munich really ought to be held in October. You picking up what I'm laying down, here? Yeah. When I'm king, things will be different. In the meantime, all I can say is "oh well". Tsk, tsk.
I have to confess, I almost took a pass on this show. Chicago in March seemed like an invitation for Mother Nature to show her spiteful side, and since there are a lot of audio shows in this part of the year, I wasn't sure taking the gamble of a last minute cancellation was worth it. But I did – and sure enough, we got a freak snowstorm 3 days before the show opened. See? I told ya so.
As luck would have it, the snow that actually fell in my area was far short of what was predicted – I escaped unscathed, though I understand that quite a few did not. Happily, the snow piled up and around the hotel diminished quite rapidly over the course of the weekend, I have no doubt whatsoever that Steve Davis, the show coordinator for AXPONA, was walking around with a curse on his lips — for several days.
By the time the fire department showed up on Saturday, I'd wager that frown had turned upside down. Steve has a real hit on his hands with Chicago – turnout was very healthy. I kept hearing snippets about how "Chicago hadn't seen an audio show in a million years" or something, so perhaps it was that. Maybe. Or maybe The People are just hungry for good sound. Whatever — I think the Windy City is a marvelous stop on the audio show circuit and I for one wouldn't be surprised if the traveling show that is AXPONA has found a new home.
My first stop was to see fellow DC-area local Gary Dews of BorderPatrol. Gary had driven up a couple of days before, in the middle of the snow, so I wanted the chance to laugh at him. His trip was uneventful, apparently – this storm-that-wasn't didn't even slow him down – and he had two of his amps on display here at AXPONA. I found both of them with Volti Audio loudspeakers – the first was a single-ended triode with dual external tube rectified/choke input filtered PSUs, the $16,750 S10 EXD. This amp was paired with his Control Unit EXD preamp ($9,750) and his new converter, the $9,750 BorderPatrol DAC2 – both the preamp and the DAC featured an external power supply with a "novel twin power transformer arrangement". Snake River Audio provided all the signal cables. The loudspeakers were rather familiar, having spent a little time recently with a review pair. If you haven't been so lucky to run across them, the of Volti Vittoras is a 104dB sensitive $17,500 horn speaker that takes something like 600 hours of shop time to make; it was here clad in a very distinctive Mappa Burl. The speakers were set along the long-wall in a typical Vittora arrangement, with a lot of space between them. Sitting in the sweet spot, the soundstage was shockingly big and the effortless dynamics of the big speakers gave me goose bumps. First room – and one of the best sounds at the show. Sweet, right? Score!
I scooted across the hall and found the second BorderPatrol amp wired to another pair of Volti speakers, this time, a prototype called "Alura". Greg Roberts of Volti expects that pricing will come under $15k/pair when they're ready to ship; until then, we had a chance to see where his thinking is going. The Alura description sounds at least superficially like the Vittora – big bass cabinet with horn on top – but the similarity ends there. The bottom cabinet is a bass-reflex, not a folded-horn, and the Tractrix horn on top is actually standing on its side, with the tweeter at the very top. Soundstage here was very tall (shocker), but what struck me most was the ease of presentation and how the sound was entirely uncompressed – even when played at "background" levels. A $9,750 20wpc push-pull BorderPatrol P21, $6,500 Control Unit preamplifier and the DAC2 drove the tunes.
Again, Snake River Audio cables wired everything together. Snake River's Jonny Wilson pointed out the new 15amp Snake Pit power distribution system ($899), featuring his trademark blend of 99.9% pure silver, 24k gold and certified OFC wiring, and the new Boomslang Series Digital cable (prices start at $539), with a magnetically shielded solid-core pure-silver conductor.
From there, I skipped over to see Jeff Catalano of High Water Sound. One of the hardest working guys on the audio show circuit, Jeff is the poster child for Murphy's Law. He'd lost a pair of the Hørning Hybrid Euphrodite Zigma Plus ($24k/pair) to shipping recently and the replacement pair had just shown up the week of the show. Showing at AXPONA with an all-Thöress lineup, including a pair of 845 SE monoblocks ($14k), a Thöress Preamplifier ($9k), and Phono "Enhancer" (aka, phono equalizer/preamp: $9k), he'd luckily brought along a Tron Seven preamp for a customer – and good thing, too, as the Thöress Enhancer went down for the count after being dropped off the shipping truck. Current came from a Silver Circle Audio Tchaik 6 power conditioner ($9,500), via Tel Wire power cables. Signal cables came from Zen Sati. The analog front end was a TW-Acustic GT ($9,500) turntable with two TW-Acustic 10.5 tonearms ($5,500 each), each with a Miyajima Lab cartridge, including a Shilabe ($3,500) and a Zero mono ($2,000). Despite all his challenges, Jeff still managed to coax life, light and air from his analog system. I have to say that, with all due envy and greed, Jeff has the best LP collection I've ever even heard tell of – it's not just big, it's stuffed full of stuff I actually want to listen to. A visit to a High Water Sound room is always a treat and an exploration – many thanks to Jeff for pulling off yet another miracle of sound.
In an effort to hit all three floors in the first 90 minutes of show time, I hoofed it up to see Doug White of The Voice That Is in order to see what he'd come up with. Doug is lucky enough to rep some truly remarkable brands, and here at AXPONA, he was showing the TIDAL Audio Piano Diacera ($37,690 in piano black) loudspeakers paired with equipment from the Vitus Audio Reference line, including the 300wpc RS-100 ($13,500) and the matching RD-100 linestage/DAC ($14,000). The DAC/linestage features a variety of digital inputs as well as two fully analog inputs (no conversion), a fully analog volume control, and a rather clever modular architecture that allows for topology and technology changes without a forklift upgrade. Shown here with some new cabling from Purist Audio Design's "Corvus" line and a 25th Anniversary digital cable wired into an Aurender S10 ($6,990), all sitting pretty atop a Stillpoints Audio rack, the sound coming out of this room was otherworldly. If you were looking for a lesson in what the term "grainless" refers to, this was the room. Victory was mine.
I was totally on a roll at this point.
Next on my list of "do not miss" was My Audio Design, one of the new lines Colleen Cardas Imports was bringing to the States, and one I'd missed at CES. Arnold Martinez and Tweak Studio was showing a pair of Duke Royal Limited loudspeakers ($48k/pair). Shown here with a suite of components from New Zealand from a relatively new-to-me company called PureAudio, the Vinyl Phono preamplifier ($4,500), Control preamplifier ($9,500) and Reference Class A monoblocks ($15,550/pair). The aesthetic is a bit like seeing an exposed aluminum skeleton, which is a bit freaky. But with that sound coming out of the Dukes Royals, I won't get hung up on it. A SOTA Millennia Series III turntable and SME tonearm and a Soundsmith Hyperion cartridge pulled tunes from the grooves. WyWires cables were used throughout and the gear sat on a slick-looking Trellis Audio rack and amp stands. Back to the speakers — they're not big. At the asking price, I figured I'd be looking up, not down, at them, but while I was sitting there thinking of the lettering you'll find on the passenger-side mirrors in US cars – "objects in the mirror are closer than they appear" — the Duke Royal Limited were blithely putting out some of the most elegant sound on display at AXPONA. Extremely refined – and coming from the TIDAL room, this was anything but a let down. 'Outstanding' was what I wrote in the margins of my flier, and while I was shrugging at the apparent pricing disconnect, I saw the extremely cool marquetry on the side cabinet – hello, Union Jack. All told, a very surprising speaker.
Speaking of Soundsmith – this was my next stop. Peter Ledermann announced a suite of new Strain Gauge phono preamplifiers (starting at $6,500) at RMAF last year. With a variety of options for the widget-inclined, the differences between the SG200, SG210, SG220 have everything to do with the preamplifier section – want variable gain output? Multiple, switchable sources? Then move up the chain. No? Then the "entry level" is your ticket. Played here on a magnificent VPI HRX turntable on a Schroeder SG Reference Arm, the Strain Gauge put out what I call a classic Soundsmith show-stopper sound – it was arresting. Don't think the Strain Gauge can sound good? Ha. Your loss!
Another note – did you know that Soundsmith offers a full kit? The Monarch and Dragonfly standmount loudspeakers are reference quality offered for (relative) peanuts and the HE-150 stereo amplifiers, here wired for a sweet 440wpc in mono, are simply outstanding. Yes, Soundsmith "does" cartridges, but that's just the beginning. Also shown here was the upgrade to the revolutionary cactus-cantilevered Hyperion, the Hyperion II ($7,499 with an industry-leading 10-year warranty). The Hyperion II "features even better channel separation (and it was scary before), improved pulse response and the introduction of a 470 Ohm load version, making it compatible with wider variety of preamps (the original was a 1000 ohm minimum load suggested). Still available in both CL and OCL styli configurations, as well as LT versions of same for passive linear arms where there might be any concern for slight lateral drag, as the LT version has lower compliance in the horizontal plane (patents pending).
Like big speakers? You're gonna love the new Von Schweikert. Your Final System of Rochester, NY, managed the rather massive and delicate task of maneuvering the giant prototype VSA VR-100xs "Universe" System. Pricing is set at $140k/pair and includes the towers and a pair of EX V15 subwoofers. A Purity Audio Ultra GT (now $53k) preamplifier was sending the high signals to a KR Audio SXi MkII integrated ($21k) and low signals to a pair of Channel Island D200 Mk II monoblocks ($3,500/pair). Source was a Your Final System branded server, the HD Ref 3 Limited Edition Music Server System ($14,500). An EMM Labs DAC 2x ($15k) handled the conversion. Cabling came from VSA's "MasterBuilt" line. $37k worth of Critical Mass Systems racks and stand held everything in place. Room treatments came from ASC, ATS and GIK.
The VR-100xs features drivers that started life at the Excel line at SEAS before being spec'd, matched, modified and mounted around a ribbon tweeter, sitting square in center of the array. The external subs are there for obvious reasons; together, the system is capable of reaching 8Hz at -6dB and Albert Von Schweikert assured me that it measures flat to 16Hz – just for those of you with pipe organ fetishes (you know who you are). Interestingly, the group delay for the four speakers (towers plus subs) is an astonishingly low 2.8ms. On the other end of the frequency range, the upper limits aren't precisely known. Flat to 40k, measuring anything beyond that is a bit of a challenge, but Albert Von Schweikert confided that the team is convinced that a -6dB number at 100kHz is a reasonable expectation. Ahem. Don't like the output? It's adjustable with a "click-stop" autoformer, with adjustments from -6dB to +1dB in quarter-dB steps. Overall impedance is about 6 ohms, with a dip to 3.4 ohms at 300Hz. Sensitivity is about 89dB. The cabinet is a triple-laminate with different Q-values, so resonances simply cancel. One of those layers is concrete, which may explain why the speakers are 468lbs – and yes, that's each. A rear-mounted horn-loaded tweeter and ribbon super-tweeter add ambience and support.
The Universe is a crazy beast of a loudspeaker. Personally, I'd love to hear it with more power on tap – we managed to send the Kronzilla into protection – and yes, that was before I even sat down or asked to play something, so don't look at me. It must have been all that classical crap. Anyway, I figured a little Morcheeba would appropriately re-set the pace – and give me a window into the speaker. Hee hee! Ahem. Yes, [cough], the speaker was able to render the bass … ah … very satisfactorily. Looking forward to seeing this baby at future shows, but have to say, it was a great debut. 
Tags: FEATURED