Air Tight ATM-1S
$10,000
JM has been delighted to have this stereo tube amp in her reference system. No matter what style of music she played, no matter what speakers she paired it with, the Air Tight ATM-1S delivered the sonic goods with naturalness, beauty, and ease, while also throwing a remarkably deep and wide soundstage. This 60Wpc stereo amp also proved to be more versatile than expected, driving a remarkable array of loudspeakers—from Air Tight's Bonsai single-driver stand-mounts to Monitor Audio's Gold 300 floorstanders and Platinum PL500 flagships (at reasonable SPLs)—to great effect. A creation from the celebrated Jap-anese master Miura-san of Air Tight, this rare gem of an amp is meticulously hand-crafted in Osaka. 
Zesto Audio Bia 120
$10,000
Zesto's Bia 60Wpc, Class A, all‑tube power amplifier, with styling to match the company's Leto linestage and Andros phonostage, brings the designers the trifecta. As with the preamps, Bia's personality consists in a completely seductive musicality free from all the usual sorts of electronic colorations and artifacts, for a presentation that never, ever sounds electro‑mechanical, instead always wholly natural. Broadly neutral but not completely accurate, the sound here is more beautiful than real—luscious, velvety, silken, gorgeous. 
Bel Canto Black EX 
$11,990
This powerhouse Class D amplifier (350Wpc into 8 ohms, 700Wpc into 8 ohms) sounds more like a Class A amplifier than Class D. The 25-pound unit has a very neutral sound, with a somewhat laid-back upper-midrange and lower treble that result in low listening fatigue. The bass is very well defined—quick and tight rather than warm and rich. The bottom end is also extremely dynamic, and coupled with the virtually unlimited power, will exploit the bass output and dynamic capabilities of just about any speaker. 
Ayon Crossfire III PA
$11,995
An SET amplifier that avoids the worst SET pitfalls: low power and high distortion. What's left is a brute of an amp that manages to be both punchy and delicate. With deeper and more detailed bass than VF had ever heard from an SET, yet a refined and delicate mid- and high-frequency range, the Crossfire III PA is the single best amplifier VF has ever heard. Although lowish in power (30Wpc) it still drives medium-sensitivity speakers to surprisingly high volumes. Automatic bias setting/tracking keeps tubes operating optimally. 
Constellation Inspiration Stereo 1.0
$12,500
The 200Wpc Inspiration Stereo 1.0 brings the same circuit design and some parts from Constellation's $180k Hercules monoblocks to a more accessible price point. Constellation has done an amazing job of maintaining many of the qualities that made the Hercules such a standout, including a highly resolved treble that never crosses over into the analytical. Transparency and timbres are also first-rate. The icing on the cake is that the Stereo 1.0 incorporates circuit refinements that improve bass performance beyond that of its predecessors. 
Bryston 7B3 Mono
$13,390/pr.
Bryston's 600W 7B³ monoblock power amplifier is a wonderfully musical product. It offers feature-rich, real-world practicality and the ability to drive a wide range of speakers thanks to its very high power/current delivery. If you favor blockbuster solid-state amplification and would rather not spend more on audio gear, the Bryston 7B³ should be on your short list.
Gamut Audio D200i
$13,990
This 200W solid-state amplifier has much of the liquidity, three-dimensionality, and image density of tubes as well as the expected virtues of solid-state: tonal consistency, frequency extension, and bass control. It runs relatively cool, is tonally neutral, and should be very reliable, producing a deep soundstage and enough power to drive most speakers well. 
D'Agostino Master Audio Systems Classic Stereo
$14,500
Dan D'Agostino's Classic Stereo is a powerhouse of an amplifier that can drive pretty much any loudspeaker with aplomb. A no-fuss, no-muss creation, it delivers a cavernous soundstage, holographic imaging, and, above all, deep and nimble bass. This amplifier is quite transparent, but definitely lands on the warmer and silkier side of the sonic spectrum in contrast to a number of its competitors that emphasize crystalline transparency. When pushed hard on big orchestral numbers, treble transients can harden slightly. Still, for its—by high-end standards—more than reasonable price, the Classic Stereo offers a surprisingly elegant and refined sound that comes close to vaulting it into the very top echelon of megabuck amplifiers.
PS Audio BHK Signature 300
$14,998/pr.
This 300W (into 8 ohms) hybrid (tube input stage/MOSFET output stage) monoblock is the distillation of all that celebrated electronics designer Bascom H. King has learned about amplifier circuits. The result is a component so rich, natural, and highly resolving that reviewer Anthony H. Cordesman bought the review samples. A genuine masterpiece from an old master. 
VTL S-200 Signature
$15,000
VTL's Luke Manley and his team have made the 200Wpc S-200 relatively idiot-proof for listeners who enjoy the sound of vacuum tubes without the need to geek-out or otherwise futz around with them. The Signature range features fully balanced differential circuitry and zero global negative feedback, which not only ensures stability under a wide variety of load conditions but also brings greater musicality to a variety of source material. Beyond its outstanding sound and flexibility in both triode and tetrode modes, this KT88-based stereo amp presents music as a cohesive and engaging whole. 
Triode Corporation TRX-M300
$15,750
Think of the M300 as a modern version of the Western Electric WE 91A, complete with a 274B rectifier, a pair of 310A receiving pentodes, and a Psvane WE300B. Image solidity, according to DO, can only be described as magical; solid-state amps would kill for it. Bandwidth and transient speed are pretty impressive for an SET amplifier. Don't expect bone-crushing bass slam, but prepare to be surprised by its dynamic prowess and the breathtaking acceleration of an orchestral crescendo from soft to loud. Speakers of 96dB+ sensitivity are advisable. TAS' 2013 Low-Powered SET of the Year. 
Jeff Rowland Design Group Model 625 S2
$15,900
Jeff Rowland is at the top of his form with this solid-state beauty, which is, as near as HP can tell, devoid of a solid-state signature. This gorgeous 300Wpc (into 8 ohms, 550Wpc into 4 ohms) Class AB stereo amp has wideband response with very low distortion, and a purity and sweetness rare in electronics of any kind.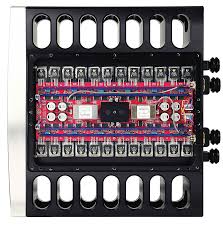 Technics SE-R1
$16,999
Forming the heart of Technics' superb R1 system is the 150Wpc (300Wpc into 4 ohms) SE-R1 digital stereo amp. Digital amps haven't taken hold in the high end, but their design inherently confers major advantages to digital sources. In particular, they completely obviate the need for a traditional DAC. Technics has complemented the approach with a gallium-nitride FET drive stage that's so efficient it eliminates parallel output transistors. In addition, the amp's LAPC function uses DSP to optimize the amp's amplitude and phase characteristics for the specific speaker attached. LAPC may explain why the SE-R1 is the most tube-like solid-state amp AT has heard. Its sound is pure and direct. There are virtually no tonal imbalances, rhythmic lagging, slurred transients, dynamic compression, image flattening, distortion or strain. A technical and sonic tour de force.
Hegel H30 Reference
$17,000 
This Norwegian powerhouse (375Wpc into 8 ohms) combines the bass control and dynamic impact of a dreadnought design with a midrange and treble refinement, delicacy, and sweetness reminiscent of a single-ended triode amplifier. The midrange, in particular, is highly vivid and present, with a palpability and directness of expression RH has not heard in an amplifier near the H30's price. A great bargain in high-powered amplifiers. 
Zesto Audio Eros 300
$19,900/pr.
Conservatively rated at 150W into 4 and 8 ohms, the Zesto 300 features pure Class A circuitry and uses six KT-88s per monoblock. The amplifiers belie their rated power, and drive low-efficiency loudspeakers to satisfying levels with ease. There is no sonic mystery that these are tube amplifiers; tonal colors are rich and full-bodied with a lifelike warmth that never devolves into softness or syrup. If anything, the amplifiers are supremely transparent and reveal an amazing amount of musical detail regardless of source.