If, as in fact is the case, presenting your business card is the customary ceremonial greeting among Japanese businessmen, then the Tokyo International Forum, where the Tokyo International Audio Show (TIAS) is annually held, is perhaps the most exquisite calling card on earth. As I wrote in last year's TIAS report, most audio trade shows are held in nondescript hotel rooms, so any venue that doesn't smack of immovable bureaus and dusty wall-mount 21-inch panel TVs is bound to impress. But the Tokyo International Forum—designed by American (né Uruguayan) architect Rafael Viñoly—goes well beyond impressive. A Gehry-like wonder of sculpted metal, glass, and silken parachute-like drapery, it flat-out takes the (seven-layer wedding) cake when it comes to show venues. The building is simply breathtaking, and a wholly appropriate introduction to the elegant, stylish, ceremonial way that the Japanese do business, even audio business.
Sponsored by the International Audio Society of Japan (IASJ), the Tokyo Show is a by-invitation-only event. You have to be asked to display at TIAS, which is designed to "promote…world-class audio products and related devices" currently distributed in Japan. The show is relatively small and highly select by CES or Munich standards, and yet it still manages to attract a large number of visitors—attendance this year was around 10,000—and to accommodate a surprisingly large number of debuts.
Given the considerable size of the showrooms, which are generally lined along their walls with static displays and crammed in their centers with rows of chairs for listening (often reversed to face in the opposite direction for entirely different setups at the other end of the room), you might think sonics would be less than ideal. Yet, the sound was mostly good and, on occasion, excellent.
What follows is my report on the best—and the rest—I heard in Tokyo. This year I've taken a slightly different tack by grading each exhibit for realism and musicality. Because pricing was in yens (for the Japanese market), I've omitted it.
As usual, let me remind folks that shows are many and I am one, so apologies in advance for any omissions or any mistakes in fact or nomenclature. I do my best to cover the waterfront, but when a room is so crowded you literally can't get into it, what's a guy to do?
Air Tight
As is often the case with displays at shows, the Air Tight room was a tale of two days. On day one, Mr. Miura debuted his new 100W Air Tight ATM-X 211 push-pull monoblocks with ATC-1 HQ preamplifier and ATE-2 phonostage, sourced by a Transrotor Rondino turntable with Matsudaira Signature Platinum cartridge—all driving three-way Magico S3s. On the delightful overture to Die Fledermaus, the system sounded good—rich, exciting, but a little vague and watery, as if you were looking at the music through the glass of a softly lit aquarium. Diana Krall's "The Look of Love" was also lovely in timbre but a bit sucked out in the presence range and not the last word in brilliance or inner detail with some slight room boom in the bass. All told Air Tight System One, as I'll call it, made for a beautiful and listenable but somewhat old-fashioned-tubey presentation. However, when I returned to the Air Tight room on Day Two, Miura-san had swapped out the Magicos and put in his own marvelous one-way Bonsai stand-mounts. Though the rest of the system remained the same, the overall presentation was improved—smoother and more musical without any suckout in the presence range (indeed, with lifelike presence), though soft in the treble and lacking the dynamic speed and slam of the Magicos. Realism: B-. Musicality: B.
Linn
Linn was showing its Klimax DS/2 network music player with active DSP'd Linn Klimax 350A loudspeakers with Exakt upgrade. On the wonderful Linn Recut LP of the Ravel Piano Concerto (played back via a classic Linn LP12), the sound was simply terrif. Minus a little low bass room boom, the presentation had wonderful attack, good color, and lifelike power. Quite a feat considering this was digitized vinyl! Realism: B+. Musicality: B+.
Marten
On female vocal, the Marten Coltrane III driven by CH Precision electronics and DAC generated a light, lively, neutral presentation (just as I remember CH sounding with Magicos). Though a little thuddish on standup bass due to room boom, the system was simply wonderful on a piano recording—very detailed, open, and uncolored with superb treble. Realism: A- on top, B in the midrange, and C on doublebass in the bottom. Musicality: a solid B or better.
Wilson Audio
Wilson's petite three-way Sabrinas did their usual excellent jobs, sounding like little sticks of dynamite driven by D'Agostino (and other) electronics and sourced by a Bergmann Sindre 'table. This is just a wonderfully lively, open, colorful little loudspeaker—the Witches' Brew of the Wilson line. Oh, there might, once again, have been a little bass boom in this room; still, this was a Best of Show Contender. Realism: B+. Musicality: B+.
Wilson Benesch
Wilson Benesch showed its carbon-fiber-enclosed, four-driver, three-way A.C.T. One Evolution P1s, driven by Einstein and sourced by a TechDAS Air Force One Premium turntable. A little lean and wiry in this room, the system was bright, forward, and slightly grainy—very present but flat in aspect and vaguely aggressive on voice and harp. (The Air Force One Premium is an interesting item, replete with dual improved outboard power supply, better motor, and an ingenious suspension system that provides a solution for off-center LPs.) Realism: C-. Musicality: D
Vivid Audio
Vivid was showing its top-of-the-line $80k Giya G1 Spirit in a gorgeous yellow finish. Driven by Constellation Hercules monoblock amps with Altair preamp sourced by a TechDAS Air Force 1 Premium with SAT arm and TechDAS cartridge, the Spirits sounded open as hell on "The Moon is Harsh Mistress." Overall this was a fairly good presentation, albeit a little subdued in presence (which is odd in Constellation) but without a trace of grain (which is not). To me it sounded as if the Vivid's box were eating a little bass-to-midband energy, as the leading edges of transients seemed a bit dulled on Diana Krall's "'S Wonderful," and despite delivering good sparkle on her piano the Spirit was just a bit bright on top. Realism grade: C+. Musicality: C+.
Yamaha
Driven by the company's own electronics, Yamaha's new three-driver three-way NS-5000 floorstander made a spectacular debut, producing terrific clarity, timbre, dynamics, and definition. A little dark like everything at the show, the speaker hadn't a trace of the beryllium brightness I rather expected to hear. Of course, this was because—to my surprise—it wasn't using beryllium-cone drivers (which Yamaha invented), but woofers, midranges, and tweeters made from a substance called Zylon. Developed by the aerospace industry, Zylon is said to be the strongest and stiffest fiber in the world—and the most fireproof (it is temperature-variation immune, which is why it is used for fireproofing in commercial jets). The Zylon drivers also use CAD-designed back chambers that are said to cancel standing waves. The speaker enclosures are made of birch plywood with no internal damping. Very realistic on piano, which is no surprise coming from one of the world's foremost piano-makers, the NS-5000s had extraordinary resolution and natural timbre from bass to treble, with (as previously noted) no edginess, but with no loss of presence or sparkle either on flute, upper-octave strings, or piano. If Yamaha puts its mind and resources to it, it could once again become a high-end force. Realism: A-. Musicality: B+.
Spendor
Spendor debuted its four-driver, three-way SP200 Forty-Year Anniversary floorstander driven by Triode Corporation TRX-M845 monoblocks and sourced by a Kronos turntable. On a Kodo drum record, the overhang on the drums was immediately obvious; the Spendors just did not start or stop cleanly, and the overall presentation had a homogenized, low-resolution, plastic-driver sound. This was not a speaker for me. Realism: D. Musicality: D.
Lansche Audio
Lansche showed its four-driver three-way 5.1 floorstander with plasma tweeter, driven and sourced by EMM Labs and Mola Mola electronics. Up until recently, Lansche has had problems building speakers that can keep up with that superb plasma tweeter; its conventional cone drivers always seemed to audibly lag behind. This is not the case with the latest-gen Lansches, however! The 5.1s had a very neutral balance with an exceptionally seamless blend of drivers. The speakers sounded quite realistic on a doublebass duo recording; they may not have been going really low, but where they did play they were very well defined, with wonderful leading-edge transients. Though a little lean in the power range and flat in aspect compared to the Magico M3 (see below), this was a Best of Show contender. Realism: B. Musicality: B.
YG Acoustics
The hardest-working (and nicest) man in show business, Dick Diamond of YG, was demo'ing the company's Hailey 1.2 three-driver, three-way WATT/Puppy-like floorstanders. I've heard these speakers sound quite wonderful in the past, and while fast, detailed, and pacey in Tokyo on a guitar trio recording with drum, they also lacked a little richness of tone color, while voice had a bright sibilance and grainy aggressiveness that bespoke too much upper midrange energy (for my taste). The third dimension also went a bit missing here, in staging and imaging. Realism: C+. Musicality: C+.
ELAC
For me, the surprise of the Tokyo show was the bullet-shaped, seven-driver, four-way ELAC Concentro floorstander, equipped with a coaxial AMT/cone tweeter/midrange, a crystal-membrane mid/woof, and four side-mounted aluminum-sandwich woofers in an elaborate cabinet made of wood, carbon fiber, leather, and aluminum. (I was told this sophisticated €60k design, built to commemorate ELAC's 90th anniversary, had been tweaked by Andrew Jones.) The Concentro sounded quite rich and full on a Donald Fagen cut with solid but rather big bass. This is a speaker that is very dense in color and information, and I liked it a lot. Realism: B. Musicality: B+
Rockport Technology
Rockport's Avior three-way floorstander was driven by Nagra and sourced by dCS. Though it was hard to tell for sure from where I was standing, I thought the Aviors were potential rivals to the Magicos (see below) for Best of Show. Smooth, noiseless, musical, with good presence and excellent openness, they showed a little stress on fortes in the upper mids; however, the rest of the speaker seemed very well behaved with bigger bass than the better damped Magicos. Realism: B. Musicality: B.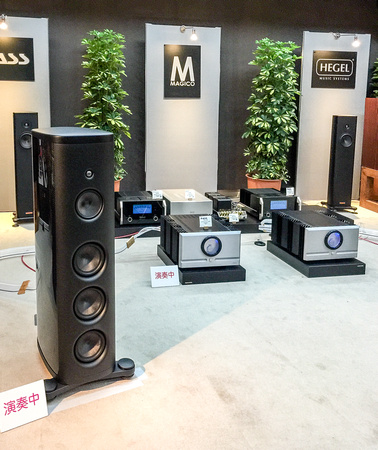 Magico
The Magico M3s made their worldwide premiere with Alon Wolf himself at the controls, and they sounded just as terrific as they did when I heard them in Hayward, CA. Driven by Pass Labs electronics and cabled with Siltech, they offered virtually everything you could want in timbre, dynamics, soundstaging, resolution, and sheer power with digital sources. That chestnut, the Telarc 1812 Overture? Phenomenal, downright thrilling. "Mona Lisa" on guitar? Superb. Jennifer Warnes' The Well? Close to you-are-there real. The M3s were simply breathtaking in dynamics, resolution, and tone color with exceptional dimensionality for digital both in imaging and staging. (Oddly enough they were not as impressive with a $10k turntable and ENT cartridge, though still persuasively natural.) Realism: A-. Musicality: A-.
JV's Best of Show
Price No Object: Magico M3s driven by Pass Labs electronics.
For The Money: Yamaha NS-5000 driven by Yamaha electronics.
Best Debut: (tie) Magico M3 and Yamaha NS-5000.
Technical Innovation: The Zylon fiber used in the Yamaha NS-5000 drivers.
Discovery: ELAC Concentro.